Mario Tennis Aces update addresses the tyranny of Bowser Jr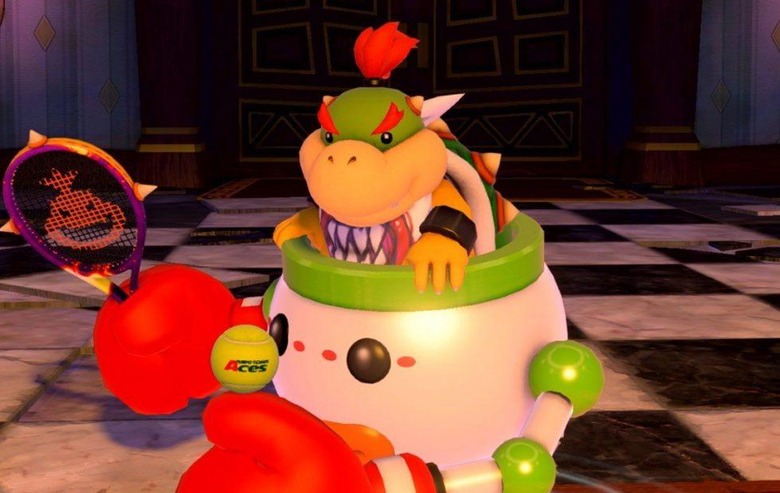 Bowser Jr. is a character with very few redeeming qualities, both specifically in Mario Tennis Aces and across the broader Mario library. On the court, he's seen by the player base as an overpowered character who is a little too good at everything, and in other Mario games, he's a whiny brat who only seems to be concerned with causing trouble. The little punk is kind of cute though, which is about the only positive thing you can say about him.
In Mario Tennis Aces, at least, Nintendo is looking to change him for the better. It seems that Bowser Jr.'s reign of terror is about to come to an end, as Nintendo has detailed an incoming patch for Mario Tennis Aces that nerfs his capabilities. If you're sick of encountering Bowser Jr. players as you try to snag some online tournament wins, this could very well be the fix you've been waiting for.
The patch notes for this update, which arrives tomorrow and brings the game to version 1.1.2, tell us everything we need to know about what's happening to Bowser Jr. Nintendo says that it has "adjusted how fast Bowser Jr. can move when charging a shot and lowered the angle at which he hits the ball back," which could very well it easier to sneak a few balls past him as you play online.
Nintendo isn't stopping here, however, as it notes that it will continue to balance Bowser Jr. before the August tournament begins. That means more changes will be coming around the bend quickly, so if tomorrow's match still leaves him feeling overpowered, he won't remain that way for long. Changes are actually on the way to all characters, which can be seen below:
- We have adjusted the range within which a character is able to return a ball, as well as how much energy is used when doing a Trick Shot to hit a ball that goes behind them.

*We made the distance you can move and the scope between left and right shorter. We also shortened the time it takes to successfully recover energy and increased how much energy is used when a Trick Shot is late.

- We have made it so that, when returning a serve, a ball cannot inflict a Body Shot until it bounces once.
All in all, it sounds like a pretty good patch, even though the changes Nintendo is making to gameplay appear to be slight. We're not sure when, exactly, the update will go live, but look for it to launch at some point on July 19. What do you think of these tweaks to Bowser Jr.? Head down to the comments section and let us know!