Marantz debuts new SR7005, SR6005, and SR5005 AV receivers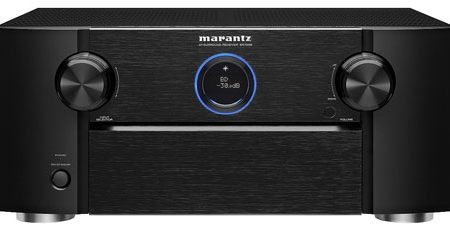 Marantz has unveiled three new AV receivers that all use much of the same tech and features. The new receivers all share features like Bluetooth, HDMI 1.4, and a fold up front panel. The SR7005 sells for $1,599, the SR6005 is $999, and the SR5005 is $799. All three have support for audio bit streams that are up to 320kbps along with multiple HD sound formats and have LPCM 7.1 signal support.
The 7005 receiver has six HDMI 1.4a inputs that all support 3D and dual subwoofer outputs. The 6005 has a HD radio tuner, six HDMI 1.4a inputs, and dual sub outputs. The 5005 has a fold up front panel, satellite radio support and more. All of the receivers have front USB ports for iPhone and other media player use.
The players support internet content like Pandora, Rhapsody, and more. The tracks from the iPhone or iPod can be controlled remotely using an included remote control. The receivers will ship soon and the optional dock required to add Bluetooth is $99.99.