Mantis drone claw gives UAVs a hand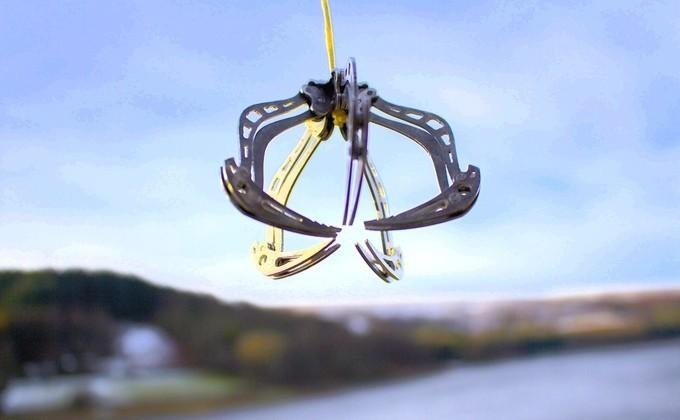 The Mantis drone claw gives drones the one feature they're all missing: a grasping tool. Given a drone's remote nature, one could use the device to navigate into otherwise unreachable areas, but they're of no use if something needs retrieved from those areas. Enter Mantis, a claw similar to the kind found in prize-based arcades games; it can be attached to a quadcopter or other drone for picking up small items.
The claw features five armatures with hooked claws on the bottom — they spread open when the claw drops to the ground, and they retract as the claw is pulled upward. It is attached to a drone using a rope, which appears to simply tie around the drone's body.
Three types of claws are offered to meet different needs. There's a lightweight version for small drones; it weighs less than 20 grams, and can pick up items that weigh up to a kilogram, assuming the drone is strong enough. The next up is "Hardcore SS", which weighs 70 grams and can pick up 2 kilogram items; it is made from stainless steel rather than aluminum alloy. And, finally, there's the Sheffield Star, a handmade version with stainless steel and sterling silver. It's more for showcasing rather than using, though.
The team behind the drone claw is seeking about $7500 USD on Kickstarter, a modest goal of which about $1400 USD has been raised with more than a month remaining. Those interested can pledge the equivalent of $38 USD for a single ultra-light model made of aluminum alloy. Shipping to backers, assuming everything goes as planned, is expected to start in April 2016.
SOURCE: Kickstarter