Manfrotto Klyp+ Now Available For iPhone 6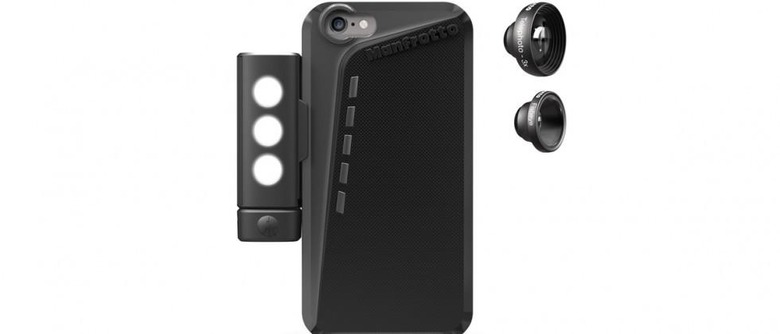 Manfrotto's Klyp+ for the iPhone 5S is pretty neat. Combining a case, lenes, and lighting, the system makes for a small studio for on-the-go shooting. Keeping current with our taste in smartphones, Manfrotto is now introducing an improved Klyp+ system for the iPhone 6. You'll have all the same functionality as before, but the scheme has been redesigned a bit. We now our choice in case colors (white, red, or black), and new lenses to round out Klyp+ as more of a photography platform than an accessory bundle.
The iPhone 5S version of Klyp+ brought three lenses: macro, wide-angle, and fisheye. The new Klyp+ has three addition lenses, giving you the choice of fisheye, telephoto 1.5X, telephoto 3X, wide-angle and macro, super wide-angle or 'polarizer' to use with your case.
The lenses are also aluminum (last year's model had lenses cased in plastic), and have a thicker scratch-resistant glass. The new lenses can also be used with older Klyp+ cases, as the mounting system hasn't changed.
I addition to new lenses and support for iPhone 6, Manfrotto also updated their Klypapp+, adding "several new post-production features".
If you want it all — the case, lighting, lenses, and Pixi tripod — Klyp+ for iPhone 6 will set you back $124.99. There are different packages as well, or you can buy everything individually.
Source: Manfrotto