MakerBot Thingiverse app launches for iOS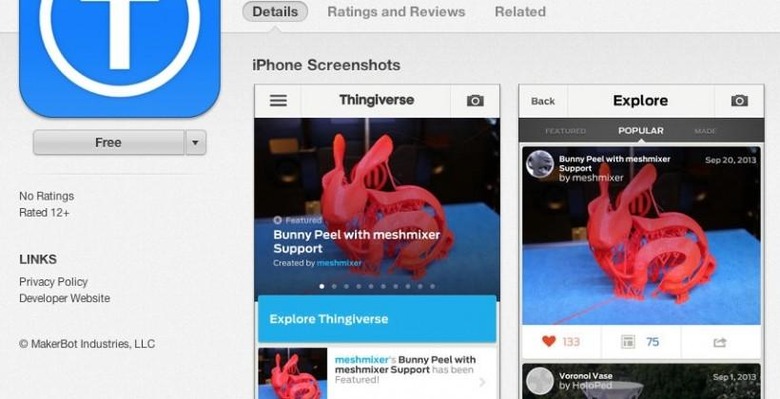 If you're a fan of 3-D printing, one of the most accessible 3-D printers on the market comes from MakerBot. The company also runs a 3-D printing design community called Thingiverse. The design community houses a huge number of 3-D printing projects with lots of pictures and other content.
The Thingiverse community now has a new way to explore all the 3-D printed items available using a new application for iOS devices. The app is available right now on the App Store and is the first mobile app for the MakerBot Thingiverse.
The app is designed to allow 3-D printing fans to explore the world's largest 3-D printing community from anywhere they happen to be. The app allows users to explore 3-D designs and check out new and noteworthy items within the Thingiverse community based on popularity. It provides access to scrolling slide shows of the telephotos for each item.
The app also allows users to collect and share their favorite designs from within the app with social networks or via e-mail to friends. Users can also take advantage of the apps ability to upload photos of their own 3-D printing designs. The app also has a dashboard offering the user a carousel of featured items and dashboard updates. One design category that you won't be able to explore using the app are 3-D printed weapons and components because that category has been removed from Thingiverse.
SOURCE: Makerbot