MakerBot Smart Extruder+ promises longer lifespan, less waste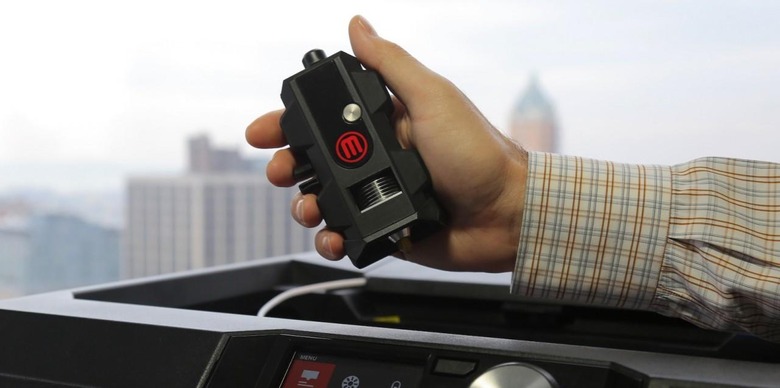 A fresh nozzle might not seem worth getting excited about, but MakerBot is promising big things from its Smart Extruder+. Announced at CES 2016 today, the swappable extruder for the company's 3D printers beefs up its thermal management system, among other things, for a longer lifespan as well as swifter-startup.
While it might be one of the smaller components in a 3D printer overall, in the grand scheme of things the extruder is the most important piece. As the nozzle where the hot filament is squeezed out, it's also one of the most common points of failure.
By making it more readily interchangeable, MakerBot says, downtime during periodic replacement should be shortened. Better thermal management means it's quicker to heat up, too, so there'll be less time waiting when you turn the printer back on.
You'll have to do that replacement less frequently, however. MakerBot found that the new design could run successfully for over 700 hours – equivalent to 1.44 miles of filament – without issue; left running, over 90-percent of the test printers were still going strong at 1,200 hours.
Improved sensors within the print head itself can chat with MakerBot's desktop and mobile apps, reporting on whether filament has run out and other metrics. Should that happen, the Smart Extruder+ can automatically pause, hopefully allowing you to resume the print later rather than starting from scratch.
Meanwhile, MakerBot is doubling the warranty to six months.
MakerBot says the Smart Extruder+ will start shipping from January 18th, 2016; it's available to preorder from today, priced at $199 or $99 if you're an existing MakerBot owner.