Make Your iPhone into a Woody - from Trunket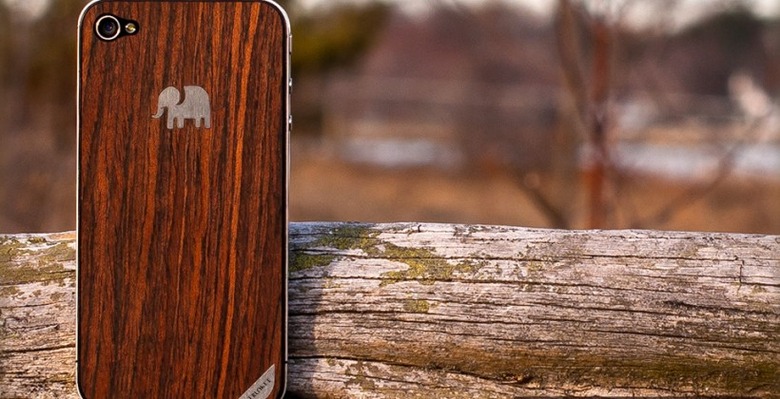 If you want to add a bit more class, or maybe charm, to your iPhone, look no further. Trunket, a company based in Bridgeport, Connecticut, has wooden iPhone 4 cases available for sale. Really, it's not a case, it's an overlay that you stick to the back of the phone. Find out more about the company and the cost of these stylish stickies after the break.
The overlays are available in 6 colors, Blood Red, Violet, Orange, Hickory, Jet Black and Sea Blue. All are made of American Rosewood, and made by hand in Bridgeport, Connecticut. The little elephant logo is inlaid with brushed stainless steel. The cases sell for $34 each, plus $5 for shipping. If you are not a fan of elephants, you can have the poor little elephant removed for $5 extra.
And you needn't feel guilt about killing trees, as the wood is listed as "rescued S. American rosewood". Plus, the company donates $1 from each sale to the Arbor Day Foundation.
A sample description for the Violet: "With all the heady allure of a fine vintage wine, this piece's violet finish adds a touch of class to your favorite accessory. The organic rose and magenta hues enhance the wood grain while retaining the attractive look of natural wood."
The company's tag line is "Makers of fine wood and leather lifestyle accessories", but the iPhone 4 case is the only item on the website right now.
What do you think? Do you want one?