Make comics and manga right on your phone and tablet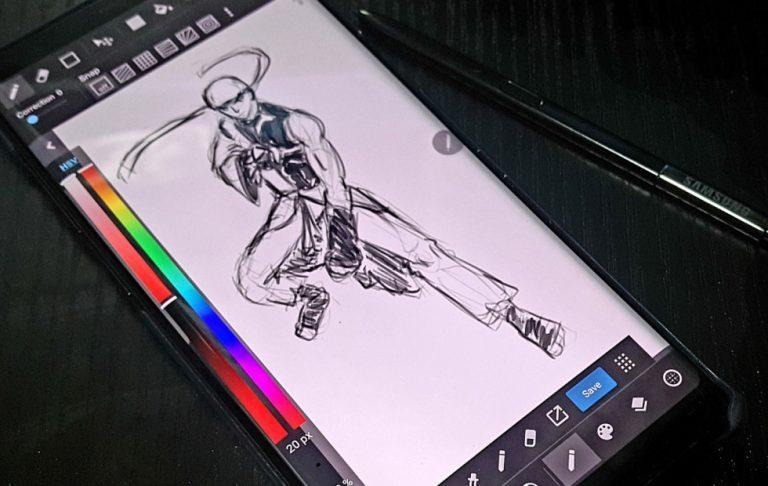 Inktober has come and gone but you don't have to wait another year to get your creative juices flowing. Creating art, or even just learning it, is a year-round endeavor of a lifetime. And thanks to the magic of modern technology, you can immediately get started on that journey with nothing but your smartphone or tablet and your dreams. So if you're a budding comics or manga creator or are curious whether you have what it takes to be one, get out your Android or iOS device and start right here and now with these apps, most of which you might not have even heard of before.
The tools
But before we actually get into the digital tools, we need to have a word about physical tools. Every profession has one and the digital artists are, of course, no exemption. Mobile devices have made the life of an artist both simpler and more complex at the same time. You no longer have to shuffle paper or carry along dozens of pens and brushes. You can sit down almost anywhere, anytime and start doodling. But you also have a paralyzing number of choices when it comes to apps. Anyone who has been stuck trying to decide on sketchbooks or pen brands will be familiar with the feeling.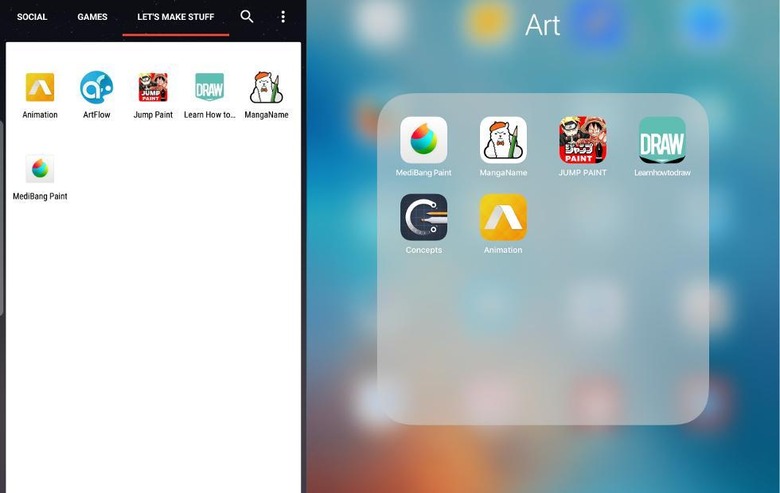 You might think that you'll need the latest Samsung Galaxy Note 8 or an iPad Pro to be an artist. Well, yes and no. These two definitely represent the top of the line when it comes to mobile art tools, but they're not exactly necessary yet if you're just starting out. There are definitely other options out there, from pressure-sensitive styluses for iOS to cheaper Galaxy Tab A tablets or older Galaxy Note models. Or you can simply use what you have right now to see if you even want to take it to the next level at all.
MediBang Paint
While Photoshop is the household name when it comes almost all kinds of digital image editing and creation, but it is by far the only one, especially when it comes to a specific kind of content creation: making comics. In that line of work, software like Clip Studio Paint (formerly Manga Studio), Paint Tool SAI, and others are often more popular, especially with their lower prices.
In the mobile world, MediBang Paint is to Clip Studio Paint what apps like Procreate are to Photoshop. While it can definitely be used to do more than just comics, it is heavily slanted towards that workflow, providing tools to easily make panels, use screentones. and organize pages into a group. Ironically, MediBang Paint's text handling is a bit lackluster.
It's definitely possible to do those things on, say, Procreate or Autodesk Sketchbook, though with some difficulty, but MediBang has one distinct advantage over them. Not only is it available on all major platforms, it also has a free cloud service that you can sync your work with so that you can pick up from where you left off on any device you have at hand.
Download: MediBang Paint (Google Play Store), (iTunes App Store: Universal, iPad)
MangaName
MediBang's bent towards creating comics and manga, which is really just the Japanese word for "comics", really shines in the ecosystem of mobile apps it has made. MediBang Paint is geared towards the complete creation of art and comic book pages, but sometimes you just need to quickly make a draft or thumbnail of an idea for later exploration. That's where MangaName comes in.
"Name" here isn't the English version of the word but a Japanese term that roughly translates to "rough draft". Knowing that, you can probably guess what MangaName is for. It offers super simple tools (pen, eraser, lines, boxes, etc.) that get out of your way when you need to rapidly put an idea down on paper, or, in this case, screen. MangaName does have manga-style stickers you can use and move around to save you from having to draw out heads and expressions all the time.
One rather odd idiosyncrasy of the app is that the selection tool, which lets your move those stickers after you've added them, only works on Android. Hopefully MediBang will update the iOS app to follow suit soon.
Download: MangaName (Google Play Store), (iTunes App Store)
JUMP Paint
It's one thing to have the tools to make comics but another thing to actually know how to draw comics in the first place. There are literally hundreds of literature available on the subject matter, both in digital form as well as dead-tree editions, but you don't have to JUMP far to get one.
Manga aficionados will probably be familiar with Weekly Shonen Jump as one of the biggest manga anthology publishers in Japan and in the world. They have teamed up with MediBang to create an app to JUMP start the manga learning and creation process. With JUMP Paint, you get access to a growing number of tutorials and lessons from some of the who's who in the manga industry, samples from popular manga titles you can practice with, and pens and screen tones you can later use for actually creating your own manga. They even have contests to discover the next manga sensation or something like that.
Download: JUMP Paint (Google Play Store), (iTunes App Store)
Learn How to Draw by Will Sinley
The "manga style" is not to everyone's tastes, admittedly. Some prefer to go with an aesthetic more prevalent in comics from Marvel, DC, Image, and IDW. Fear not, because there are even more learning apps for that. One of the newest is "Learn How to Draw". The rather plain sounding name belies the treasury of knowledge that can be found in the app. And it's not even all done yet! The app gets new content every week, focusing on a different aspect of the comic-making process.
And while there are hundreds of such apps in the marketplace, Learn How to Draw does have a bit of street cred attached. The content comes from the mind and hands of Will Sliney, whose work at Marvel includes various runs of Spider Man, the recently concluded Secret Wars arc, and more.
Download: Learn How to Draw (Google Play Store), (iTunes App Store)
Concepts (iOS only)
Not all parts of a comic book involves people punching the lights out of each other, striking heroic poses, or riding off into the sunset. Props, backdrops, and all sorts of objects are just as essential to giving comics their depth and appeal. While you can definitely make those in tools like MediBang Paint, sometimes more dedicated tools get the job done better.
Concepts on iOS is an illustrator's dream come true in digital form. Unlike most apps like Procreate, Sketchbook, MediBang Paint itself, Concepts work with vector graphics, which don't lose their definition no matter how much you resize. Concepts, however, mixes this with a more painterly approach, making it one of the best tools for creating concept pieces, hence the name. Designers also simply love the app's color "wheel", which reminds them of their favorite Pantone squares.
Download: Concepts from iTunes App Store
ArtFlow (Android only)
Android has had a bit of tough luck when it comes to art software. Whereas iOS users see Procreate as the go to for digital art, there isn't yet a single name that rises above the rest on Android. ArtFlow, however, comes pretty close. It has almost everything you can ask for: a wide variety of customizable brushes, the ability to create custom brushes, and even a screen recording capability that will let you turn your drawing session into a timelapse video.
One feature in particular, however, is of great interest. ArtFlow has an option to use a screen's touch sensors to emulate the pressure sensitivity you'd get on something like an S Pen or an Apple Pencil. In theory, this would let you use any stylus or even your finger to achieve lines with varying width or opacity. The catch is that it's a hit or miss, depending on your device.
Download: ArtFlow from Google Play Store
Wrap-up
Technology has practically removed many of the excuses we have for putting off fulfilling our dreams. Even with just a phone, you can already start learning, doodling, and practicing in your free time. The only excuse you really have left is yourself. So break out of your shell, take the plunge, and let the lines flow.