Make any handheld GPS-compatible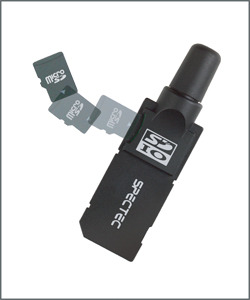 With the Spectec SD/SDIO GPS Receiver, you can turn any handheld with an SD slot into its own GPS device. The antenna is a little nub at the top of SD card, while an extra slot below the antenna allows for an extra MicroSD card with up to 2GB of memory. Spectec also has SDIO and miniSDIO 802.11b WLAN cards, although the new GPS Receiver is revolutionary.
A bunch of specs can be found on Spectec's website, along with information about other SD card modules. The card is available for pre-order on some sites, and it is not available in the US at the moment. Their website is here.
A Holiday Wonder [Via: Gear Diary]