Maingear to offer NVIDIA GeForce GTX 690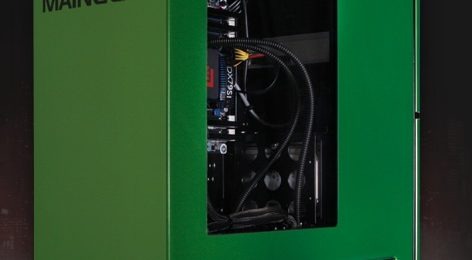 NVIDIA announced the GeForce GTX 690 on Monday, a graphics card that houses two Kepler cores on one single card. It certainly looked very flashy, with lots of chromium-plated aluminium spread across the GPU in order to keep everything cool along with the card's fan. It commands a pretty penny too: $999. So who's the first company crazy enough to fit one of these cards into their system? Maingear, of course.
Maingear will be one of the first to offer the GTX 690 in its latest line of desktops. As above, the GPU has two Kepler cores with a total of 4GB of GDDR5 memory, and a disgusting amount of CUDA cores: 3,072 to be exact. The power behind the graphics card means gamers won't have any problems with 1080p gaming, or even at the higher resolution of 2560x1600 found on some premium desktop monitors.
Wallace Santos, CEO and Founder of Maingear, says that the GTX 690 is "a work of art", reminding the company of when NVIDIA first introduced the GeForce 256. "Everything about this card just screams power, performance, and perfection." You can expect to see the GTX 690 working its way into new Maingear builds starting from today. No word on what pricing up one of the rigs will cost you, but considering the card itself costs $999, we hope your children weren't planning on going to college at all.