MAINGEAR Quantum SHIFT Workstation Announced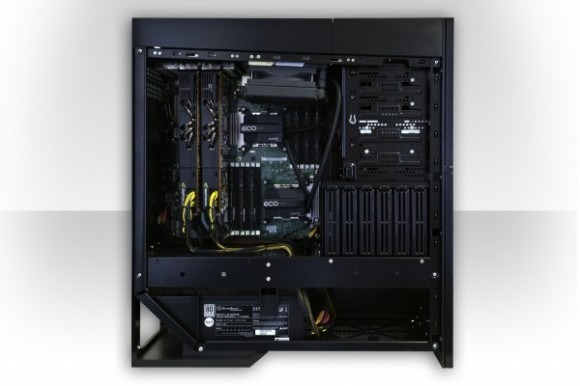 MAINGEAR Computers has officially announced the availability of their latest workstation computer, basically trying their best to blur the line between supercomputer and gaming rig. Specifically designed for those that take their computer gaming very seriously, along with people who just want to have the best of the best and those with the creative know how to make something of this magnitude actually work for them, the Quantum SHIFT Workstation is a beast amongst . . . Other beasts.
The entire system is optimized for Adobe's recently released CS5, you can create your own SHIFT Workstation to utlize up to three NVIDIA Quadro FX graphics cards, which will take full advantage of the GPU-accelerated Adobe Creative Suite. The Workstation is implemented with a unique vertical heat-stack design, which is put in place so that your system runs cool for longer periods of time, and that you're not going deaf from the machinery in your work room.
Put into perspective, the SHIFT Workstation is perfectly capable to play back three layers of HD, and offer up twice the performance of a GTX 285 while running in CS5. As we said, the SHIFT is completely designed to be a power-mongering workhorse, created only to make you happy in all the creative things you do. If this sounds like something you're interested in, and you're ready to put down the cash for your next big investment, then you can head over to MAINGEAR's website and order your very own SHIFT Workstation. How much will it cost you? The base price is $3,399, but that also comes with MAINGEAR's Premium Lifetime Labor and Phone Support. Full press release after the break.
Union, New Jersey – April 12, 2010 – MAINGEAR Computers, award-winning builders of custom computers for PC gamers, enthusiasts, and creative professionals, unveils the Quantum SHIFT Workstation, an everyday super computer that exceeds the demands of the most power hungry graphics professionals. Fully optimized for Adobe CS5, the SHIFT employs up to three NVIDIA Quadro FX graphics cards to enable a GPU accelerated Adobe Creative Suite that allows you to design with creative precision. SHIFT's unique vertical heat-stack design ensures that your Quadro equipment remains cool and quiet no matter how intense your tasks may be.

With Adobe CS5 powered by MAINGEAR, you can navigate images like never before with GPU-accelerated scrubby zoom, bird's eye zoom, and 3D modeling. Also, GPU-accelerated color picker, color dropper and real time brush resizing give you immersive interaction with your canvas. The CUDA-accelerated Mercury Engine in Premiere Pro gives post-production houses the power to edit more than 3 layers and multiple effects in real-time. With Quadro's GPU acceleration in Premiere Pro, playback of two layers HDV and effects can be accelerated in real time on the GPU. At nearly 30 frames per second. Compare that to 2.2 frames per second on the CPU only.

"Adobe CS5 fully leverages the advantages of NVIDIA's Quadro FX GPU accelerated technology," said Wallace Santos, CEO and Founder of MAINGEAR. "Quantum SHIFT optimizes both technologies with enhanced performance and airflow, providing creative professionals with the most advanced workstation PC ever created."

In addition, the new GeForce GTX 480 brings an unprecedented amount of professional power to the table. If you're looking for the ability to playback three layers of HD, and twice the performance of a GTX 285 in CS5, the SHIFT with GeForce GTX 480 is a powerhouse editing product.

"Adobe CS5 powered by GeForce GTX 480 hardware has enabled us to achieve same-day edits with our in-house video production," said Chris Morley, CTO of MAINGEAR. "In seven years of designing and selling high definition post production workstations, I've never seen so much get done in so little time and for so little money. The ROI with SHIFT powered by NVIDIA running Adobe CS5 is amazing."

Consumers can purchase the Quantum SHIFT at MAINGEAR's Web site www.maingear.com/quadro-adobecs5 or order by phone at (888-MAINGEAR). The base price is $3,399 and comes with MAINGEAR's premium Lifetime Labor and Phone Support with a 1 year hardware warranty and is backed by the best in-house support team in the country.

About MAINGEAR

MAINGEAR is the premier high performance systems integrator in North America. MAINGEAR custom builds gaming, home office, mobile, multimedia, small business and 3D workstation solutions of the highest quality, which have won them many editors' choice awards in every major computer publication such as C-Net, [H]ard|OCP, Maximum PC, CPU Magazine, etc. For more information on MAINGEAR, please visit www.maingear.com or call, toll-free, (888)624-6432.