Maingear Axess HD Gamer: Core i7, dual GeForce 9800 GT and Phantom Lapboard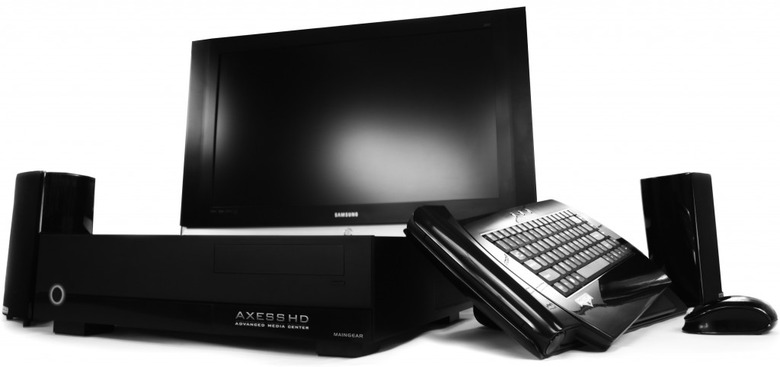 Maingear have announced a new PC that can't decide quite whether it's for gamers or HTPC enthusiasts.  The Maingear Axess HD Gamer has its sights on your living room, and uses a low-profile aluminum case; however inside there's an Intel Core i7 processor, up to 12GB of DDR3 memory and dual NVIDIA GeForce 9800 GT graphics cards in SLI configuration.  The Axess HD Gamer is also the first system to come with the Phantom Lapboard.
Other specifications include a Blu-ray drive, 8-channel audio with pre-amp, S/PDIF digital audio output and Vista Home Premium with its media center UI.  Storage is courtesy of two 3.5-inch SATA drives, offering up to 2TB of space, or alternatively twin SSDs.
Up front there's an OLED display for status information – including song or artist for music, or alternatively movie title – plus a multi-format memory card reader.  Connectivity includes DVI-D, VGA, HDMI and component out, plus dual gigabit ethernet, eight USB 2.0 ports, two 6-pin FireWire ports and eSATA.
Unsurprisingly, none of this comes cheap.  The Maingear Axess HD Gamer range starts from $1,799, but expect to pay far more than that for the kind of maxed-out system the company are talking about here.