MagicTouch Kit turns any monitor into a touchscreen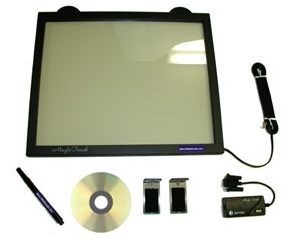 If you've seen those fancy-pants touchscreen monitors and are getting a bit jealous, don't fret. I've got a simple way to turn that plain old monitor into an exciting touchscreen.
The MagicTouch USB Touchscreen kit will do just that. For about the cost of a new flat-panel monitor, you can upgrade your existing monitor to a touchscreen. Just mount it on your screen, plug it in, and you're ready to go.
You can get these in a variety of sizes and interfaces. They will work with both LCD and CRT monitors. Probably best of all, they are compatible with Windows, Mac, and Linux.
MagicTouch USB Touchscreen Kit – add the feelies to your PC or laptop [via redferret]