Magellan Maestro 4350 GPS revealed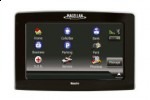 It's nice to see something new from Magellan again. That company has been a little quiet lately. But yesterday, they announced their newest in-car GPS device and it's called the Magellan Maestro 4350 series.
These new models include the Maestro 4350 and the Maestro 4370. Both are super portable and feature the OneTouch interface, offering up fast and easy selection of favorited destinations. This makes it much easier to select frequently traveled destinations while on the go, without having to stop and go through a complex set of menus.
Multimedia functions can be added, as can Bluetooth. Both devices also feature traffic receivers, lane guidance and text-to-speech. However, they do differ slightly. The 4350 model features a less impressive resolution than the 4370, which is available for purchase from Best Buy, only. Both models supposedly cost $499.99, but the 4370 is on sale at Best Buy for $399.