Madden NFL 13 sells 1.65 million units its first week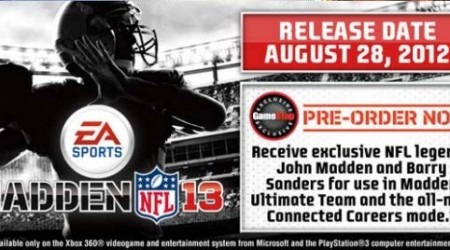 EA has been around for a long time and one of its most popular properties is the Madden NFL football games. Typically, Madden NFL titles are some of EA's biggest games of the year. EA has offered up some details to go along with the launch recently of the latest game in the franchise, Madden NFL 13.
According to EA Madden 13 is continuing on its record-setting pace by setting new records for sales and fan engagement during its first seven days in retail. The first seven days in retail for the game span August 28 through September 3. EA says that its internal estimates for sales on Madden 13 indicate sales are up 8% year-over-year on HD platforms.
EA reports that 1.65 million copies of the game sold during its first week marking the fastest start ever for the franchise on this console generation. EA had previously announced that Madden 13 had set a new one-day record for HD consoles. EA also offered some player stats noting that during the game's first week after launch, there was a 31% increase in the number of online games played year-over-year.
EA recorded more than 24 million online games, equivalent to 47,000 NFL regular seasons and seven days of play. On Labor Day alone there was an average of 3000 Madden 13 games started every minute. EA says that during the first week at retail more than 1.4 million fans connected online. There were over 702,000 unique visitors to the enhanced Madden Ultimate Team mode with players opening more than 2.6 million packs and competing in more than 2.2 million challenges. EA also notes that there were 1.3 million unique visitors to the Madden NFL Facebook page and 450,000 mentions of the Madden franchise on twitter.