Mad Max Savage Road game trailer: it's no Fury Road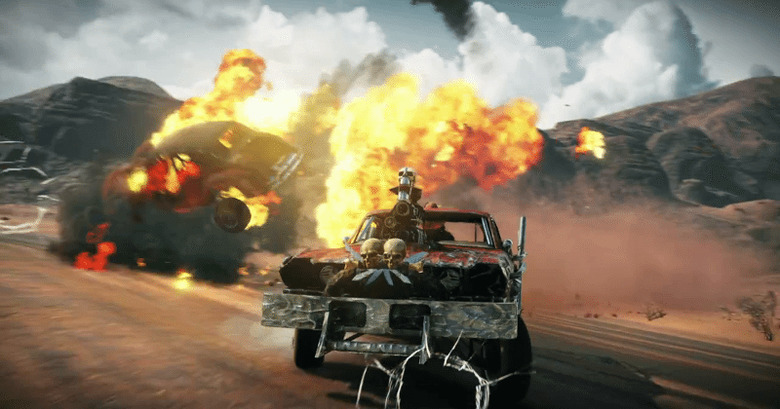 Cars and monster trucks that tumble and go boom. People beating the hell out of other people. Malformed, and mostly bald, inhabitants of a post-apocalyptic world. A mysterious leading lady slash love interest. And more cars that go boom. That is the gist of the new trailer for the game tie-in to the blockbuster hit Mad Max Fury Road. And the title, Mad Max Savage Road, might be totally appropriate, as this adaptation involves much more gore and violence than the film was willing to show.
Of course, this is supposed to be a story trailer, so it should be about the plot. What plot? All you need to know about the game's story is probably already summarized in the first 50 seconds of the 2 minute 49 second trailer. "A man with no wheels is a man with no hope". So yes, this is pretty much a game about cars, driving, and causing those to roll into balls of fire. Of course, there will also be chances to beat people up.
For what, you may ask. Well, it wouldn't be (a new) Mad Max if there weren't any conspiracy underlining the plot and a "driver" turned reluctant hero getting dragged into the ugly mess. What that crisis will be is something we'll have to find out when the game finally lands, but there is mention of Gas Town, one of the very few links the game has to the film. Aside from the titular protagonist, of course, who eerily resembles Hawke from Dragon Age II more than Tom Hardy's version.
Of course the big question will be how the game will stand up to the film. We can't, of course, expect the same quality, even in an open-world game, but Mad Max Fury Road was hailed for many things, including the almost restrained depiction of violence and sex, despite actually being filled with those very same elements. It seems, however, that the game will be pulling out all the stops. Hopefully the story, the film's greatest strength, won't be taking backseat in the game.
Mad Max Savage Road launches September 1st this year on Xbox One, PlayStation 4, and the PC. Pre-orders are already available from various retailers at $59.99 a piece.