Mad Catz to produce amBX gaming peripherals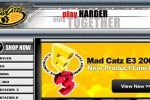 Mad Catz has been around for a long time and first got its start making cheap accessory controllers for systems like the PS2. As the company has grown, it has gobbled up other firms like Saitek, who makes gaming peripherals and controllers for PCs and game consoles.Mad Catz has announced that it has entered into an agreement to build a line of peripherals for the PC using amBX technology. The goal of amBX is to enable sensory surround entertainment. You may recall one of the first amBX peripherals was a speaker system from Phillips.
The Phillips amBX system was a 5.1 speaker ser that included fans and lights that were in tune with events in games. The fans would blow when you were flying or when an explosion went off near you. The lights would come on to mimic the orange and red of explosions. The system was fun and I hope Mad Catz makes some cool amBX gear.