A couple of days ago, Mad Catz teased their new GameSmart lineup of peripherals that focus on mobile gaming. We knew very little of these devices until today. At CES, the company showed up the new hardware, and we ended up getting some hands-on time with the new R.A.T.M and the M.O.U.S.9 gaming mice, the former which is the company's smaller mobile version, and the latter being the bigger brother of sorts.
The R.A.T.M is surprising small, and while it may not fit comfortably in the hands of the larger folks, you'll be certain that the mouse will fit perfectly in your traveling bag. The R.A.T.M is the first mouse to combine Bluetooth 4.0 with a gaming laser sensor, and a battery life that should last you for over a year.
The R.A.T.M is compatible with both Windows PCs and Macs, as well as a slew of smart TVs and tablets. The mouse also comes with a "Nano Dongle USB receiver" that clicks in snugly on the bottom of the mouse for increased portability. Lastly, there's 12 action buttons (10 of which are programmable), and a 6400 DPI twin-eye laser sensor.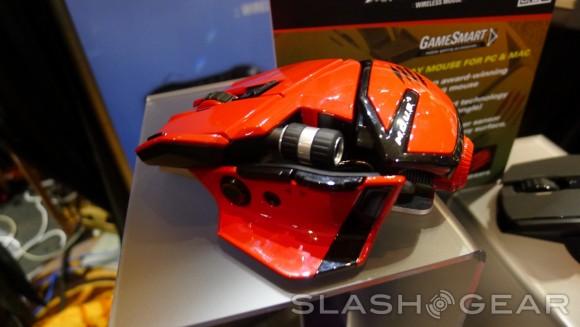 The bigger M.O.U.S.9 looks very similar to its smaller brother, but as aforementioned, it's slightly larger than the R.A.T.M. It features the same Bluetooth 4.0 technology as well as the gaming-grade laser sensor. Just like the R.A.T.M, the mouse has a one-year battery life and is compatible with a range of products, including PCs, Macs, smart TVs, and tablets.