Macy's to offer Sean John sweater that holds a video screen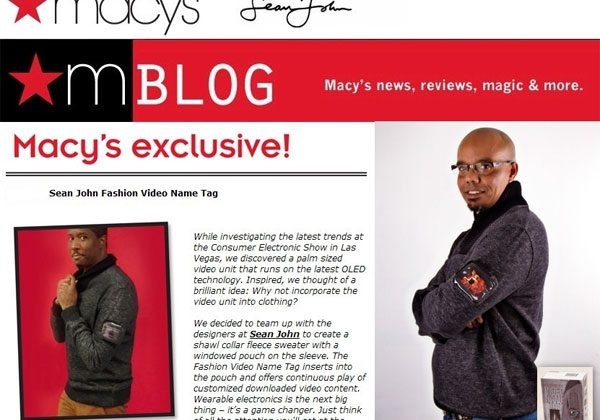 I've seen some strange mash ups of fashion and technology over the years. Typically, when you talk about clothing and technology, you always think about wearable computers. Clothing brand Sean John and retailer Macy's have announced that they will be offering the world's first video fashion clothing in select locations around the country.
The clothing that will be offered is a sweater that has its own little video screen in the sleeve. The sweater will be offered beginning this week at select Macy's locations. You can find out if your Macy's is one of the locations that will be selling the sweater here.
The sweater is your typical sweater, the little display comes from Recom Group and is called the Video Name Tag. The small display has a 2.8-inch active matrix OLED panel. The resolution of the screen is 320 x 240 pixels and it has 2 GB of integrated storage.
The display measures 3/8-inch thick x 2 3/8-inch wide x 1 3/4-inch tall. The manufacturer promises that the internal lithium-ion battery allows the screen to operate for 6 to 10 hours continuously. The little display supports full motion video or still images. Naturally, the display has to be removed for cleaning the sweater and pricing is unknown at this time.