macOS Sierra will soon warn if your display sucks up battery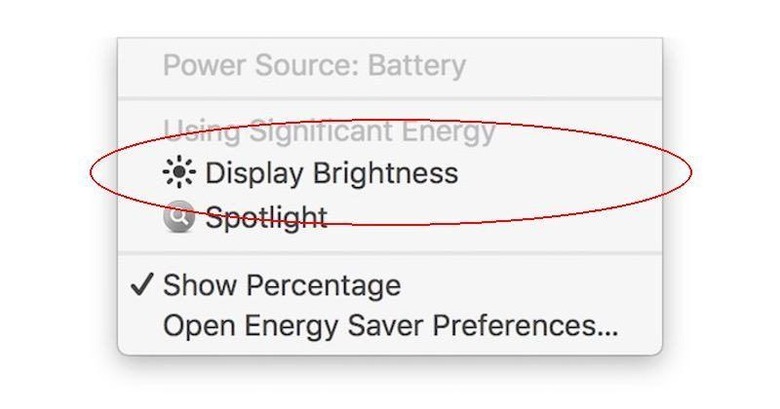 If there were three things that defined the late 2016 MacBook Pros, they'd be the Touch Bar, Thunderbolt 3 ports, and contentious battery life. Apple has received no small amount of flak, warranted or not, for the not so 10 hours of battery life promised by the company. Apple has taken those criticisms seriously and implemented some measures to refute those claims, or at least make sure that it won't be blamed for them. Its latest countermeasure was quietly added to the fourth beta for macOS Sierra 10.12.3 which now warns users if their displays are so bright they're using up those precious battery minutes.
The gist of the matter is that owners of the new MacBook Pros have been complaining rather loudly that they never even reach close to the 10 hours promised by Apple, with some getting as much as 6 hours on regular usage only. Even Consumer Reports controversially did not recommend the late 2016 MacBook Pro because it experienced such a dismal battery life. It turns out, however, that CR inadvertently triggered a bug that Apple has fixed in the upcoming 10.12.3 release. So all's well in MacBook land. Somewhat.
Apple's response to complaints about battery life have been rather amusing, to say the least. In macOS 10.12.2, it removed the "Time Remaining" indicator, claiming that such estimates have never really been accurate. While technically true, the timing is rather suspect. Without any indicator of how much time is remaining, users will have to rely on an old-fashioned timer to be able to claim that they are experiencing less than 10 hours of usage on a single charge.
In 10.12.3, Apple will be adding a new indicator. Or rather, it will now add "Display Brightness" to the "Using Significant Energy" section of the battery indicator. This item gets added when brightness is set to higher than 75%. Clicking on it will set the brightness down to 75%. In a nutshell, Apple is now reminding users that your super bright settings is also to blame for that shorter than advertised battery life.
VIA: Mac Rumors