macOS Sierra code hides MacBook Pro Touch Bar, Touch ID gems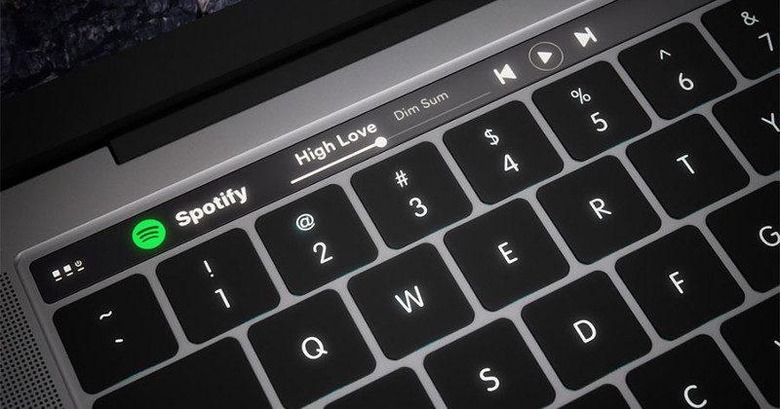 Those who were expecting Apple to show signs of its new MacBook Pro at WWDC 2016 may have been more than a bit disappointed at the no-show. However, do not despair, as Apple might have snuck in some very well hidden clues. The API documentation for the next macOS, formerly known as OS X, reveals quite a few entries that have been interpreted as confirming what is widely believed to be a customizable OLED "Touch Bar" strip above the MacBook Pro keyboard.
Apple doesn't comment on rumors or speculation, so naturally there has been quite a few of those regarding this change to the next generation of MacBook Pros. Aside from other minor design changes, the biggest rumor so far as been a strip of touch-sensitive OLED screen that will replace the Fn row of keys on the notebook. There have been leaked photos of the alleged chassis for the new MacBook Pro, leading to the unofficial mockup pictured above.
It seems there might be a bit of accuracy to that imagining, based on developer documentation for OS X 10.12, a.k.a. macOS Sierra. New code was added for certain "kHIDUsage_LED_" features, including battery status, camera controls, data mode, media player controls, and more. While some might think this would be simply for LED lights not unlike power or Caps Lock indicators, the sheer number of them implies otherwise.
The so-called "Touch Bar" isn't the only new feature exposed by the documentation. There are also entries for "kIOHIDBiometric" actions, hinting at the inclusion of a Touch ID fingerprint sensor or something similar. These revolve around tap actions, like Double Tap and Triple Tap.
Apple is expected to launch the new MacBook Pros later this year, probably around September. Given the addition of these new developer hooks, the Touch Bar and Touch ID features are pretty much sure to be there as well.
VIA: MacGeneration