MacBook Pro spy photos hint at OLED touch strip, no MagSafe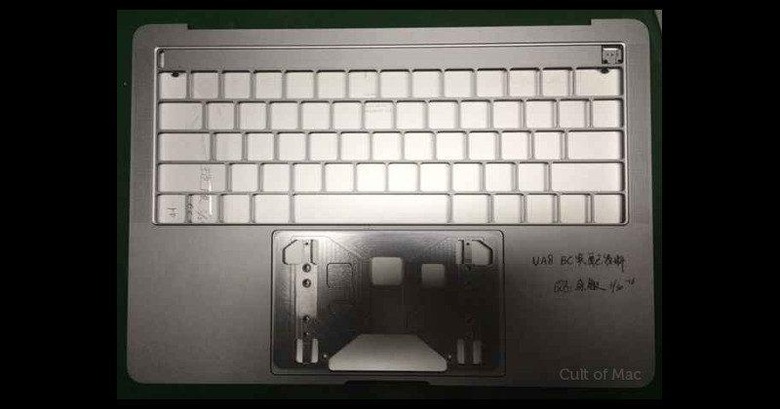 It's been a while since Apple made any huge change to its MacBook Pro line but the upcoming new model might prove to be the most controversial, or at least most talked about, one. Aside from the usual internal updates, like processor or RAM, rumors point to equally substantial new features on the outside of the MacBook Pro. A fresh batch of leaked photos of the alleged cutouts for the new notebook confirm the rumored OLED touch display strip above the keyboard. But they also reveal other changes that might not sit well with everyone, like the removal of MagSafe charging and full-sized USB ports.
The OLED touch display is admittedly intriguing. As these photos confirm, it will practically replace the row of function keys at the very top of the keyboard. Aside from spacing on space, that will potentially allow users to reprogram the "keys" to the functions they do want or need, instead of being force by convention. We presume that, by default, the display will feature the regular function keys to keep things familiar for majority of users. That said, many will probably bemoan the removal of physical keys, sacrificed for the sake of customization.

Perhaps more controversial will be the USB ports. The photos reveal practically nothing at the sides aside from four USB-C ports, two on each side, and a headphone jack. It was expected that USB-C would eventually make its way to other MacBooks, but probably not to this degree. As MacBook Pros are more used in professional settings more than their other brethren, compatibility with still mostly USB-A peripherals is an important consideration. Perhaps even more important for some will be the absence of a MagSafe charging port. USB-C ports don't offer the same accident-proof connection as Apple's proprietary connection.

Also seen in the photos is the relocation of the speaker grilles to the sides of the keyboard. That is already the case for the 15-inch MacBook Pro bu the 13-inch model has the speakers behind the keyboard. The change is supposedly due to the addition of the OLED touch display but also has the nice effect of offering a better audio experience.
Of course, unofficial leaks are unofficial, so there's no certainty of their accuracy. They came from a self-described anonymous employee from one of Apple's manufacturing partners in China, but anyone can claim that. That said, the cutouts do hint at how the MacBook Pro keyboard could look like if all the rumors came true.
VIA: Cult of Mac