MacBook Pro Goes Slim With Quad-Core This Spring

This summer we're very likely going to see MacBook Air slimness on Apple's line of heavier-duty MacBook Pro units, complete with Intel's Ivy Bridge quad-core processors in-tact. This information is gleaned from no less than Intel themselves, with news coming through that April 29th will be the date that they're ready to show the world what they're made of in both the mobile and desktop world. CPU World lets us know that two separate and trustworthy sources have now confirmed that this date late in April will be the delivery time for for desktop portion of this equation, with quad-core models Core i7 and Core i7 Extreme families in the pipeline.
This news comes with the following part names attached inside the Core i7 family: desktop Core i7, Core i5-3570K, i5-3570T, i5-3550, i5-3550S, i5-3450 and i5-3450S. These systems on chips will be available in late April or early May and will find their way into devices such as MacBook Pros thereafter. New iMac machines have also been tipped for this timeframe, but no additional details are known on specifications of any kind.

We can expect that the MacBook Pro refresh will be delivered (if all goes according to the standard non-official plan of things), this spring right around the same time as the processors themselves are prepared for business with the rest of the computing world. This refresh will be the first in which Apple gets rid of the optical disk drive altogether, favoring instead digital data delivered via USB drive and their own Thunderbolt port.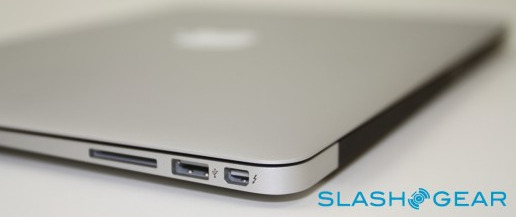 Get pumped up about the thinness, because these units are more than likely going to be essentially Ivy Bridge-toting MacBook Airs with much better graphics, hard drives, and processing power. Can't wait!
[via MacRumors]