Apple's MacBook Pro has new graphics card options, with the AMD Radeon Pro Vega GPUs now being added to the notebook's configurator. Promised earlier this month, alongside the big Mac mini and MacBook Air launch, the new graphics options are targeted at graphics professionals doing tasks like 3D rendering, as well as gamers.
Specifically, it's the AMD Radeon Pro Vega 20 and Radeon Pro Vega 16 that are now available as options. Apple hasn't been shy on making promises for the potential performance uptick with the new GPUs, either. You could, in fact, see up to a 60-percent improvement over the Radeon Pro GPU that Apple was using on its most potent MacBook Pro configuration.
The benefits, Apple says, should be seen across video editing, 3D workflows, and game developer. It's not just that the GPU cores themselves are more powerful. AMD is also using second-generation High Bandwidth Memory, or HBM2, integrated onto the GPU package.
HBM 2 is designed to address some of the limitations GDDR5 memory is running into, as video cards get more ambitious. For a start there's its power consumption, which AMD has predicted may "actively stall the growth of graphics performance"; in larger amounts, meanwhile, it requires a large number of GDDR5 chips, which has an impact on overall size. HBM 2 memory, in contrast, is physically smaller and can be integrated right onto the chipset. 1 GB of HBM 2 memory, AMD says, occupies around 94-percent less surface area than 1 GB of GDDR5 memory.
As you might expect, though, these new GPUs don't come cheap. For a start you'll need to be configurating the most expensive 15-inch MacBook Pro, which starts at $2,799. Replacing the standard Radeon Pro 560X with its 4 GB of GDDR5 memory with the Radeon Pro Vega 16 with 4 GB of HBM2 memory will cost you $250.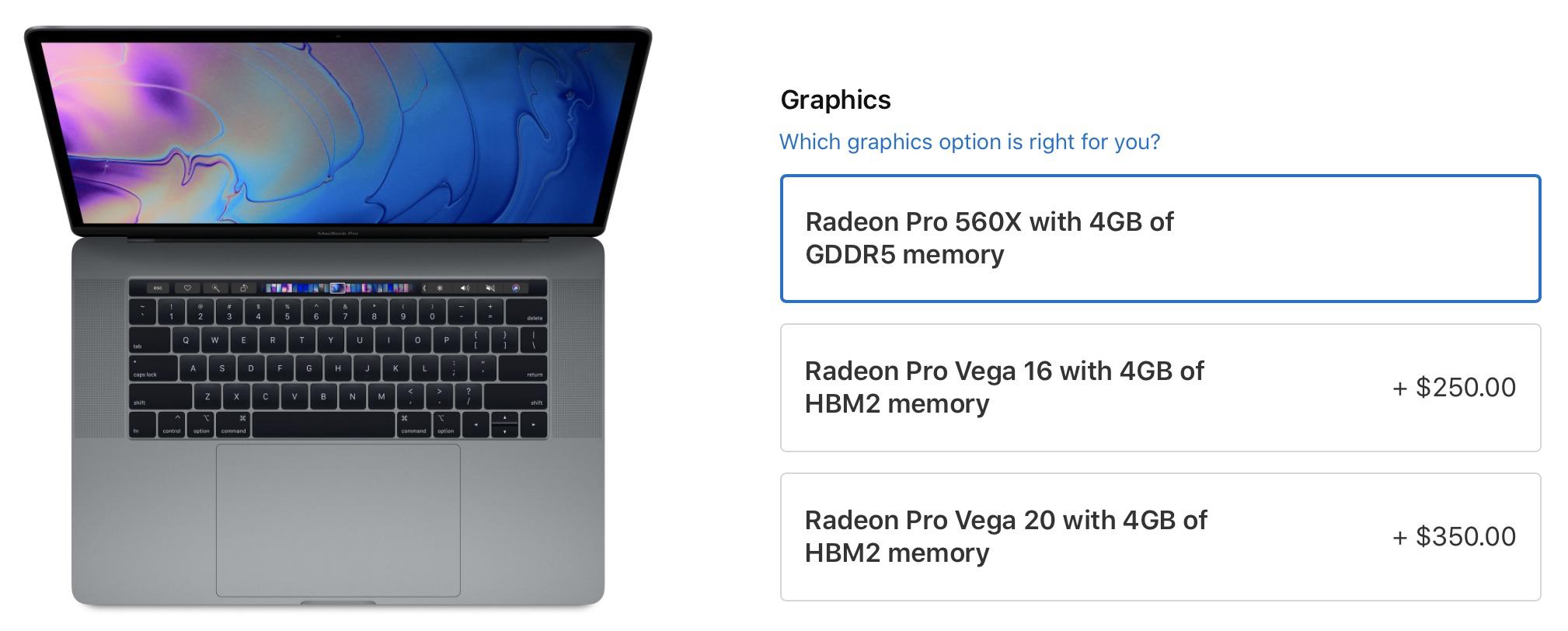 If you want the Radeon Pro Vega 20, meanwhile, also with 4 GB of HBM2 memory, that will be $350. In total, with the GPU maxed out, you're looking at $3,149 at least.
It's entirely possible that these new configurations will be overkill for many people. It's also arguable that an eGPU – which connects via Thunderbolt 3 – would be more flexible. Though they're typically even more expensive than the Radeon Pro Vega 20 upgrade, they do at least have the bonus of being swappable between other systems.
Still, for those needing the cutting-edge of performance for macOS, and demanding portability with it, this could be a very appealing upgrade. You can order the new MacBook Pro configurations now, with deliveries expected from November 20.