MacBook Pro 2016 Report Details GPU, Secondary Keyboard Display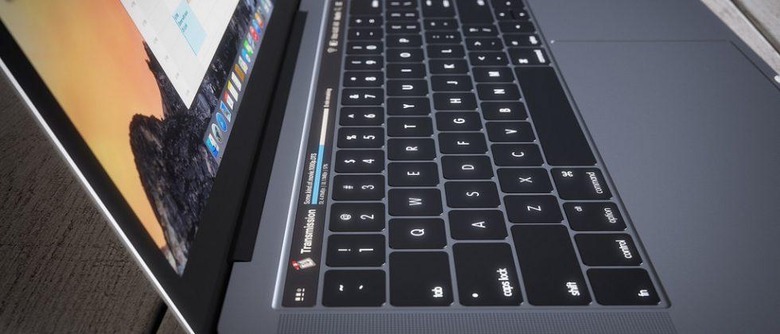 If you haven't heard the rumors yet, Apple is apparently planning a new MacBook Pro for release later this year. The decision to release a new MacBook Pro – a line that hasn't seen a new release in four years – comes as Apple deals with lagging iPad sales, suggesting the company may turn to an old favorite to help pull it out of this rut. New report has surfaced today, giving us additional details about what to expect if this supposed MacBook does indeed exist.
Like previous rumors, this one from anonymous Bloomberg sources seems to confirm that the MacBook Pro for 2016 will feature TouchID compatibility, support for USB Type-C, and a touch-enabled secondary OLED screen above the laptop's physical keyboard. This secondary screen will apparently offer contextual functions depending on what sort of program is being used on the computer itself, and it could allow Apple to add new functionality to the keyboard without having to develop an entirely new MacBook.
This new MacBook is rumored come in 13 and 15-inch varieties, a while they will be thinner than the current Pro models being offered, it won't be on the same level as something like the MacBook Air, meaning no tapered edges on the device. In fact, the new MacBook is said to have shallower curved edges than even the current Pro and smaller bezels around the display, lending to the new computer's smaller overall footprint.
While details about internal hardware have been rather slim, Bloomberg says users will have the option of including a graphics chip from AMD's "Polaris" line, potentially giving gamers and other users who want their MacBook to be more of a workhorse extra graphics power. Apple was drawn to the Polaris line due to the fact that it manages to pack a respectable amount of power into a relatively small package, giving the company the ability to achieve the thinness factor it's looking for in the new MacBook Pro.
Obviously, we've heard some of this before, but this report serves to back up earlier rumors about the 2016 MacBook Pro while sprinkling in some new tidbits of information. There's still no word on when Apple would reveal the device – a showing at next month's event seems unlikely – but considering that sales began to swing away from iPad and into Mac's favor last year, it wouldn't be surprising to hear that Apple is plotting a new MacBook release. Hopefully more details will make their way to the surface soon, so stay tuned.
SOURCE: Bloomberg
IMAGE: Martin Hajek