MacBook Pro 2012 model release tipped by price drop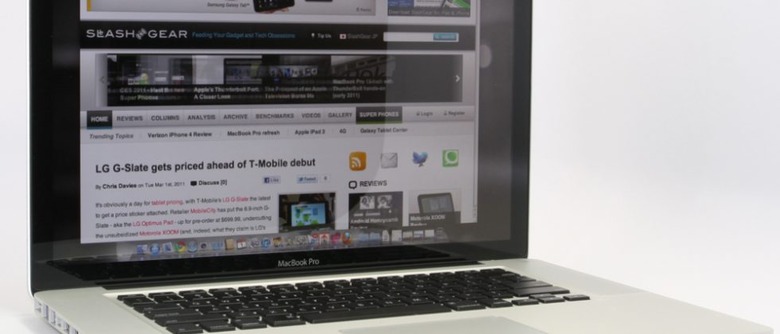 Over at Best Buy this week you'll find that the new MacBook Pro 2012 model has been tipped by one of the more obvious events that always happens before a new Apple product: a price reduction int he current model. This blowout and replace tactic has been in place for several years now, all the way back to when iPods were given away for free to students when the newest model was on the way in the early 2000s – and beyond. Here we've got Best Buy specifically taking a few bucks off Apple's otherwise tight and solid price scheme with several price cuts starting at $100 USD.
The price cuts start on the least expensive MacBook Pro with a $100 discount and are offering up to nearly $200 off the higher-end models they've got in stock. This compared to the retailer's price-cut of the iPad 2 this February shows that the new MacBook will be released very, very soon. When the iPad 2 was discounted by $50 this February at Best Buy, the 3rd generation iPad was released a week later.
The display will be at the center of attention when this new MacBook Pro drops, it likely taking on a resolution densification that is on par with how impressive the 2012 iPad with "retina quality display" was when it was released. This means that the new MacBook Pro 2012 model will need a bigger battery, this pointing towards this model doing away with the optical drive and replacing it with batteries and making the whole unit thinner as Apple does so. We're also feeling the idea that Apple will push gaming and app sales on this particular model MacBook Pro, this tied closely with the improved Ivy Bridge processors and NVIDIA graphics inside.
Have a peek at our MacBook Pro 2012 timeline below and expect not only the 3rd Generation Intel Core processor lineup inside, but USB 3.0 along the sides as well – soon!