MacBook Pro 16-inch keyboard first look video shows Magic scissors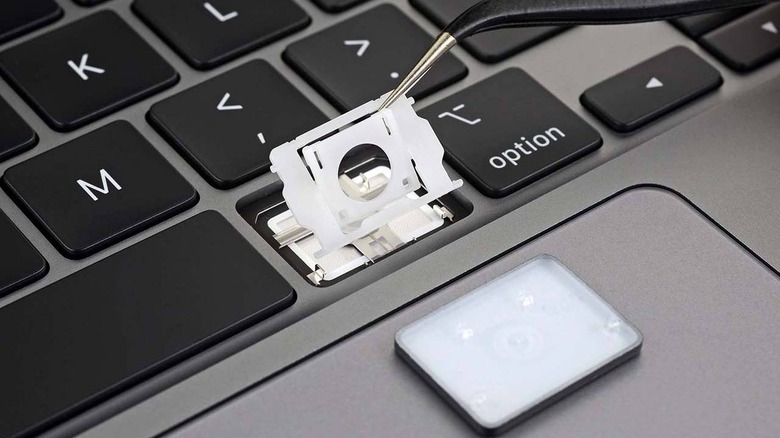 The favorite website of anyone attempting to fix their own broken gadgets, iFixit, has published a new video of its 16-inch MacBook Pro 'Magic' keyboard teardown. The team recent highlighted the new keyboard and its scissor switches in a live stream, giving future buyers the opportunity to see what they're getting. The previous, and mostly hated, butterfly switches are a thing of the past.
The newly announced 16-inch MacBook Pro — which, as previously leaked has replaced the 15-inch version — features a new keyboard bringing an old, familiar design: the scissor mechanism. The Magic Keyboard, as Apple calls it, features a scissor switch that looks 'almost identical' to the ones found in the desktop version of the Magic Keyboard, according to iFixit.
The Magic Keyboard's scissor switch features two plastic pieces that are crossed; the middle portion pivots, making the key movement possible. Unlike the butterfly switches used in the most recent past models, the scissor switch can't be easily incapacitated by a piece of debris.
As if to emphasize that point, the new MacBook Pro's keyboard doesn't feature the protective membrane Apple introduced following the butterfly design. When pressed, the keys on the MacBook Pro 16-inch offer half a millimeter of extra travel compared to the butterfly keys, plus the keycaps are 0.2mm thicker.
This should address the complaints from some users who weren't happy with the noisy typing experience on the previous keyboard variant. iFixit notes that Apple seems to have reinforced the clips on the keycaps that attach to the scissor switches, meaning it'll be a bit harder to break them when removing the keycaps.
The team promises a full teardown of the 16-inch MacBook Pro on Monday.