MacBook Pro 15-inch with ThunderBolt hands-on (early 2011)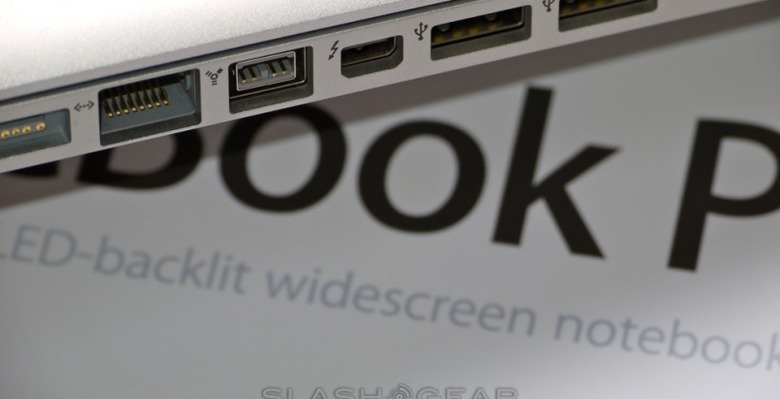 Make no mistake; the new MacBook Pro notebooks are impressive beasts. Outwardly all but identical to the previous range, which means plenty of milled aluminum, a backlit chiclet keyboard and broad multitouch trackpad, on the inside there's a fresh injection of Sandy Bridge and potent AMD processors to match. We met with Apple this morning to find out what's special, and came away with a maxed-out 2.2GHz Core i7 15-inch model, retailing for $2,199. Check out our first impressions and more after the cut.
Hands-on, the general experience is much the same as before. The keyboard is still responsive and pleasant to type on, the display is still – unless you've opted for the matte finish – highly glossy but bright and color-rich, and the unibody chassis is still head and shoulders above what most of the PC competition can offer. Even the ports look, at first glance, the same, though closer examination confirms the DisplayPort logo has been switched for a Thor-style Thunderbolt.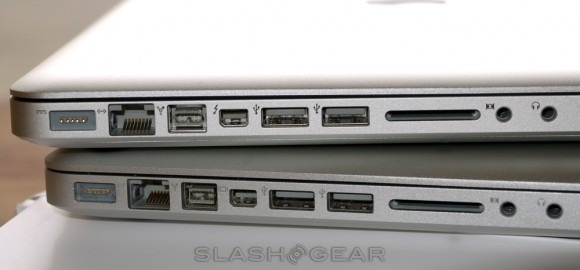 iSight has gone, replaced by a FaceTime-HD camera, which supports up to 720p HD video calls between Macs and with iPhone 4 and iPod touch owners. The new FaceTime app is preloaded on the new notebooks (or a $0.99 download on older models – which run at VGA not 720p – from the Mac App Store) and the quality is surprisingly strong. Obviously chats with mobile users will be limited by the bandwidth they have to receive and the fact that, currently, both the phone and PMP have a VGA camera themselves; we wouldn't be surprised to see a 720p HD webcam on the iPad 2 next week.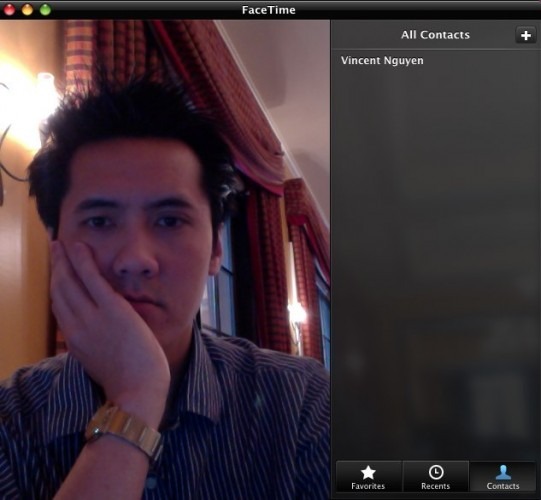 With no Thunderbolt-compatible hardware on the market – although various manufacturers have confirmed they'll be offering devices using the Light Peak based standard – we can only go from Apple's own demonstrations as to how the technology works. Even from a short demo, however, the potential is clear. Apple showed a Promise Pegasus RAID hooked up via Thunderbolt to a new MacBook Pro, with a 27-inch LED Cinema Display linked off of that.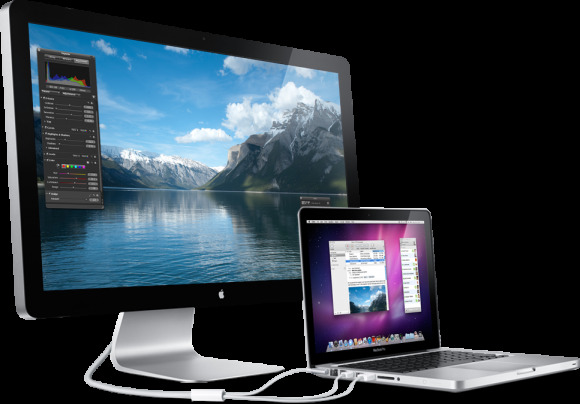 With a theoretical limit of 10 Gbps, it's no surprise that file transfers were blisteringly fast. A selection of files from 5GB to 10GB shifted from laptop to RAID in just seconds. More impressive was how Thunderbolt handled bi-directional data. Apple showed how the MacBook Pro could pull four, uncompressed HD video streams from the Pegasus RAID, and then push that back out down the same Thunderbolt pipe to the LED Cinema Display. In effect, there's 20 Gbps of bandwidth to play with – 10 Gbps for DisplayPort video and 10 Gbps for PCI Express data – with this particular demo pulling at around 7 Gbps from the RAID and then pushing at around 6 Gbps to the monitor. In theory, Apple pointed out, you could push the data for two 27-inch LED Cinema Displays simultaneously, though since the panels don't currently have a daisy-chain Thunderbolt port, that's hypothetical right now.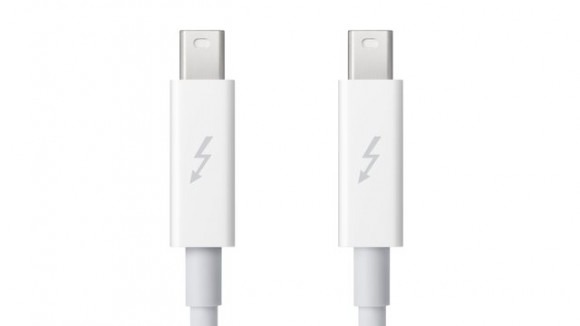 Finally, Apple showed a currently-unnamed Intel external storage device, in effect a pair of 256GB SSDs packaged into a semi-ruggedized external enclosure. Hooked up via Thunderbolt it's intended for heavy duty video editing, taking advantage of the huge two-way bandwidth and direct PCI Express connection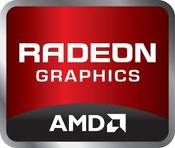 to keep up with the MacBook Pro's quadcore processor.
We'll be putting the new MacBook Pro 15-inch through its paces for the full SlashGear review, including benchmarking the new Sandy Bridge processors and AMD Radeon HD 6750M 1GB graphics. As a sample, Apple showed us rendering a huge image in Modo 3D – across all eight virtualized cores of the Core i7 processor – in 21 seconds, versus over 60 seconds on the last-gen Core i7 MacBook Pro. Until then, enjoy the hands-on gallery and video!
MacBook Pro 15-inch with ThunderBolt Unboxing video:
[vms 3ba19df81a90f89d99bc]