MacBook Air rigged with NVIDIA GeForce GPU for Thunderbolt super-build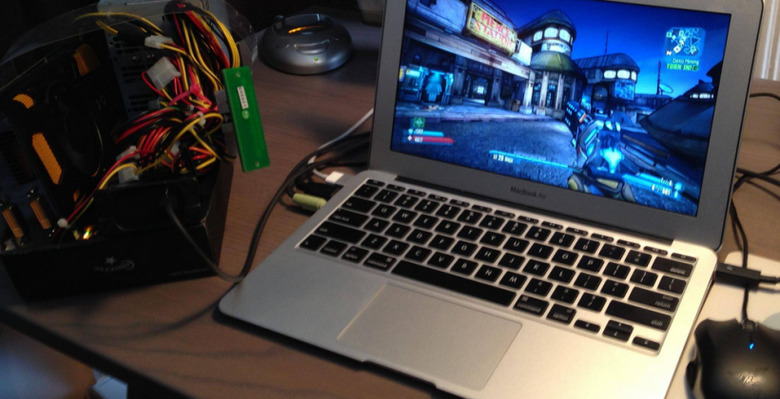 It's a frankenstein monster of efforts, this computing rig appearing this afternoon, one that connects a MacBook Air to graphics it has no business running on its own – but certainly has the ability to roll with, it would seem. This amalgamation of bits and pieces starts with a Thunderbolt to Express Card adapter, moving on then to an ExpressCard to PCI-Express adapter, then connecting in the end to an NVIDIA GeForce GTX 570 graphics card. This beast then – after all that – brings what very much appears to be a high-end gaming experience to the Apple notebook.
The only caveat – other than an exposed set of fans, if you don't wrap it all up – is the fact that you've got to use Apple's Boot Camp to run Windows to make this all happen. Inside Boot Camp, Windows can bring the driver requirements needed to work with this high-powered graphics card, and the adapters seem to do the rest!
This setup is able to be plugged and unplugged with ease, making the MacBook Air an at-home beast of graphics delivery when you're sitting down, a mobile computer as it's marketed as when you're not in the mood for gaming.
"You'll get faster performance with an external monitor, but you'll lose the convenience of not needing a giant monitor. This becomes relevant as people make better eGPU cases where your eGPU will be portable. Why bring a monitor to your friend's place when your laptop already has one?" – Larry Gadea
Larry Gadea is the creator of this rig, and his original post to the Tech Inferno forums has more details on benchmarks and build options than you'll ever care to sift through. Instead you'll probably just want to kick this rig out yourself.
Meanwhile we're reveling in the fact that someone saw things similar to Chris Davie's column from earlier this year: Dear Apple, here's what I want from the new Thunderbolt Display, complete with display-based GPU. Keep it powerful, and Apple – keep considering it!
VIA: MacRumors