The 2013 Mac Pro has a removable CPU, Other World Computing has discovered in a teardown. By "removable", we mean the CPU can be pulled out of its socket by anyone. It can be easily replaced with a new one at some later point.
Every Mac Pro comes with an Intel Xeon E5 CPU. It's available in either a quad-core or six-core configuration. The quad is a 3.7 GHz chip with 10MB L3 cache, while the six is a 3.5 GHz with 12MB L3 cache. Both can take advantage of Turbo Boost to clock up to 3.9GHz.
In any case, the CPU can be replaced by a more powerful one in the future. This is made possible by the fact that the CPU is socketed. The socket in question is an LGA 2011, and it's the same one used in all 2013 Mac Pro configurations.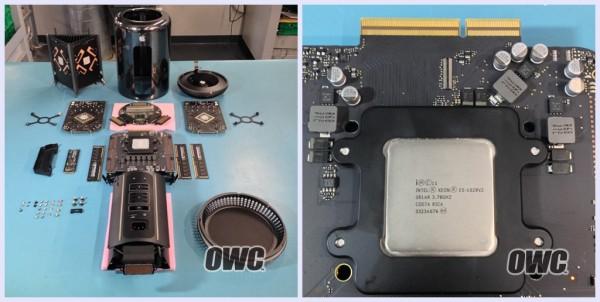 This means users will theoretically be able to upgrade their Mac Pros without having to buy a whole new Mac Pro. They can just buy a new CPU should the need arise. This is good news considering the base price for a Mac Pro is currently set at $2,999.
SOURCE: OWC