Apple may have sneakily disguised the Mac Pro as a trashcan from 2001: A Space Odyssey to help it fly under the radar of thieves, but if you're still concerned then there's now a way to tie the cylindrical computer to your desk. A new Mac Pro Security Lock Adapter basically adds a Kensington lock connector to Apple's flagship desktop, stopping it not only from being stolen altogether, but from being opened up, too.
The $49 adapter clamps on at the bottom of the housing, though requires no tools to fit and doesn't modify (or, happily, permanently damage) the Mac Pro itself.
Once a third-party lock is slotted into place, not only is the Mac Pro stuck to wherever the other end is secured, but the pull-off casing can't be removed. You'll need to supply your own lock to go with it, of course.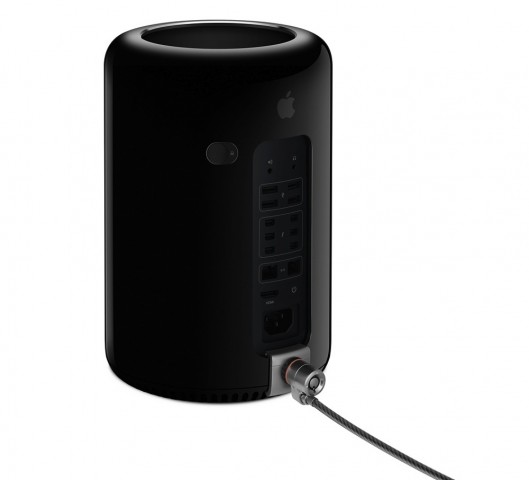 It's a sensible idea, given the combination of flagship pricing with a surprisingly compact form-factor makes the Mac Pro an alluring target for thieves. Apple's clever packaging – slapping the different components, like dual graphics and all-flash storage – on three sides of a central cooling section, and then mounting the computer's single fan on top, kept the Pro's footprint small, but a common concern was that it would also make it easy to pick up and steal.
The new Mac Pro Security Adapter is available to order today. Meanwhile, check out our full review of the Mac Pro.