Mac Pro 2013 Review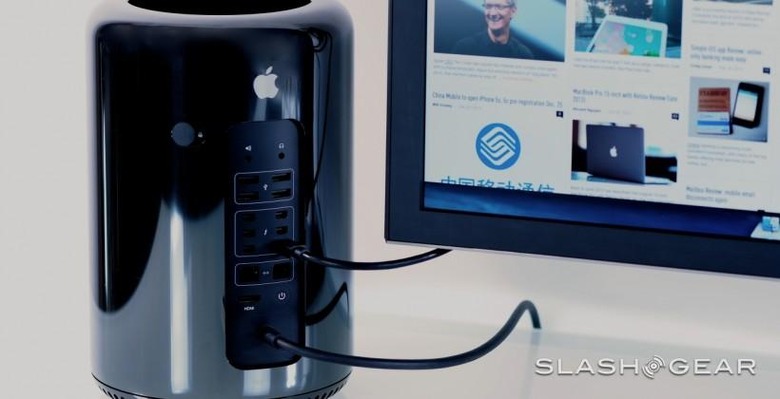 Apple is finally taking the Mac Pro seriously again. Years of seeing the iMac, MacBook, iPhone, and iPad get the bulk of Apple's design and engineering attention had left many professionals worried that the Mac Pro was to be put out to pasture; now we know they needn't have worried. In fact, the 2013 Mac Pro has reaped benefits from of each of those models before it, the premium – and yes, premium-priced – culmination of Apple's miniaturization, materials research, and performance know-how. Not only does the new Mac Pro comprehensively update Apple's flagship range, it challenges exactly what we expect a workstation to be. Over-ambitious? Read on for the full SlashGear review.
Design
Why should a workstation be a big, rectangular tower? The new Mac Pro isn't just a huge departure from the old design – itself little changed from 2006, and even then similar to the earlier Power Mac G5 – but different to every other computer on the market.
It's deceptively small, at 9.9-inches tall and 6.6-inches in diameter, though it's reassuringly dense at around 11 pounds. Apple's design team has brought all of its recent lessons-learned to bear on the finish, too, from the diamond-cut chamfered edges borrowed from the iPhone and iPad bezels, through to the polished, anodized aluminum casing building on the best of the iMac and MacBook lines.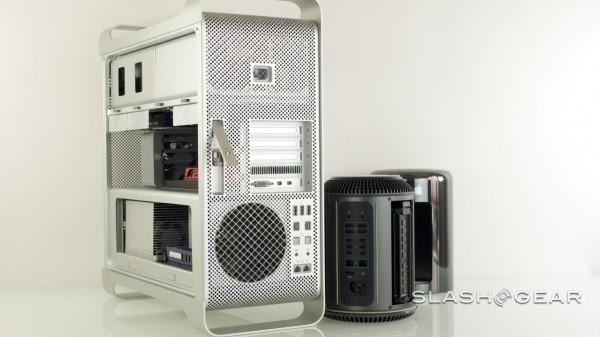 The Space Gray outer sleeve is glossy and highly reflective, unsurprisingly eager to show smudges and fingerprints if you paw at it. You may be more tempted to do that than with the average workstation, too, since the Mac Pro's size lends itself to being taken out into the field. It's admirably free of logos and labels, too: to find those, you have to turn it round to access the ports. There, under a laser-etched Apple logo, there's a long, narrow I/O panel, clusters of sockets each outlined by backlit groupings that gently glow as you move the Mac Pro.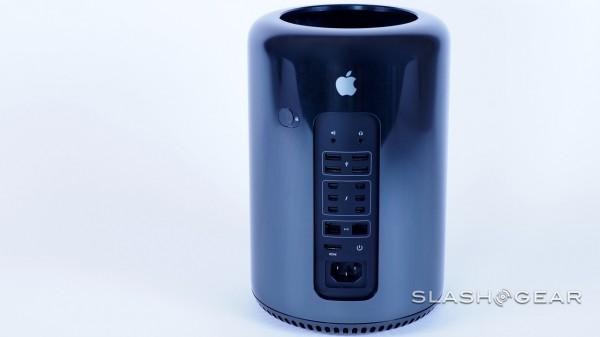 It's a neat touch, but very usable too: if you've ever fumbled around behind a computer, trying to plug in a cable or adapter, you'll quickly appreciate the "landing lights" guiding you in. Apple has indulged in a little visual theatrics, too, with the LEDs lighting up and then fading out in sequence as the Mac Pro powers up and down.
What even a small period of time with the Mac Pro confirms is that this certainly isn't a case of form blindly leading with no consideration of function. In fact, everything central to the workstation's design is built around how it can deliver power with minimal compromise, whether that be on space, heat, or noise.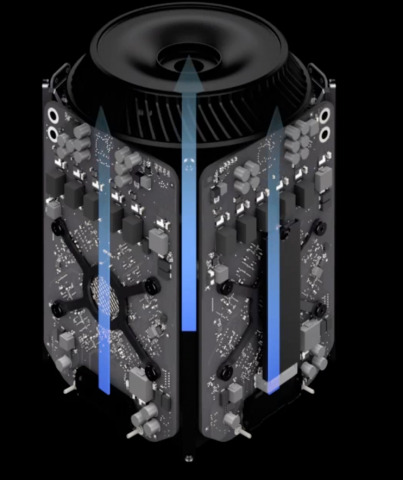 Slip off the shell, and the core of the Mac Pro actually has three corners. Apple has built it around an upright, triangular "thermal core" to which the mainboard and graphics are fixed: it works as one huge heatsink, with a single fan drawing cool air up from the vents on the bottom and out of the circular depression on the top.
The previous Mac Pro used eight different fans in total, but Apple has simplified things considerably for the 2013 model. In fact, there's only one in the whole system, and it actually spins a little slower than the main fan on the old Pro. That's because the shape and the spacing of the blades have been adjusted to maximize efficiency while also minimizing noise; Apple says the new Mac Pro is up to 10 dBA quieter while crunching away than the workstation it replaces, while at idle it's as quiet as a Mac mini.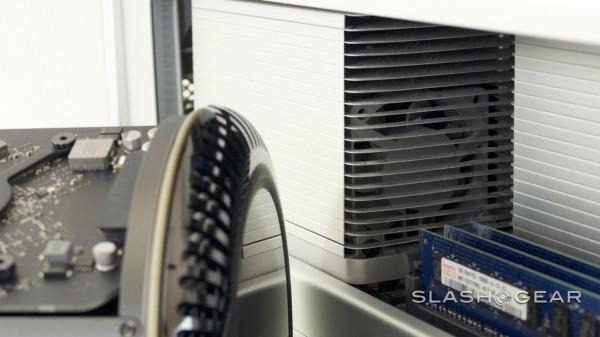 That's not hyperbole, either. In day to day use, you probably won't even hear it. Even under load, the tone of the Mac Pro's fan noise is more subtle; a discrete thrum rather than a screeching turbine whine. The whole aluminum casing is designed to help dissipate heat, so as well as the warm air funneled out the top the shell as a whole can get noticeably warm to the touch. We never found it to be uncomfortably hot, however.
Hardware, Upgrades and Options
The entry-level Mac Pro is no slouch. $2,999 gets the 3.7GHz quadcore processor, 12GB of memory, 256GB of flash storage, and dual AMD FirePro D300 graphics cards, each with 2GB of dedicated RAM; the other preconfig is the $3,999 3.5GHz 6-core, with 16GB of memory, 256GB of flash storage, and dual FirePro D500 graphics, each with 3GB of RAM.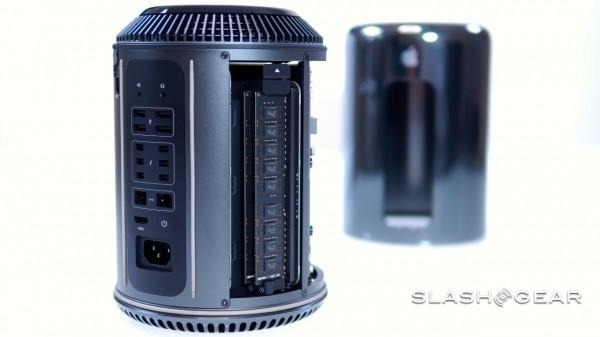 Our review unit has the 3.0 GHz 8-core Intel Xeon E5-1680v2 processor with 25MB of L3 cache, 32GB of 1866MHz DDR3 EEC memory (made up of four 8GB chips), and 512GB of PCIe flash storage. It also has the top-spec dual AMD FirePro D700 GPUs each with 6GB of GDDR5 VRAM. Overall, it's a $6,799 machine.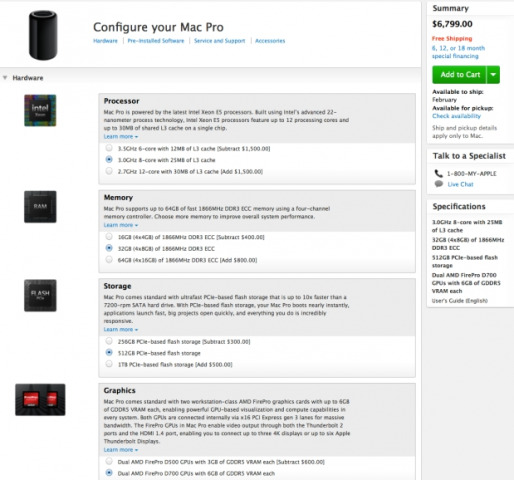 Neither is Apple short on options for those wanting to trick-out their new desktop. All but the processors are accessible for user-upgrades, though since they're relatively new, rare slots and sockets, actually finding a third-party source will be tough for a while. There's a 3.0GHz 8-core with 25MB of L3 cache, for $2,000 or $1,500 depending on your starting configuration, and a 2.7GHz 12-core with 30MB of L3 cache for $3,500 or $3,000 respectively. Up to 64GB of 1866MHz DDR3 ECC memory can be specified, and up to 1TB of PCIe solid-state storage. Up to dual AMD FirePro D700 GPUs with 6GB of GDDR5 VRAM each can be installed.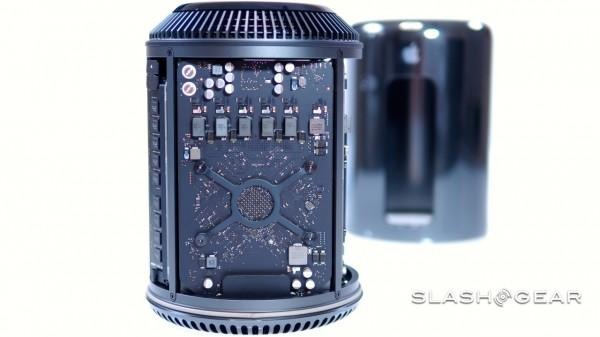 Max out the core factory-fit specifications and you end up with a $9,599 computer, and that's not a small number. Still, workstations in general – or at least high performance workstations – aren't inexpensive. We tried to configure an HP Z620 workstation with the same processor, memory, storage, and as close to the graphics of our review unit as we could (HP's options top out at AMD FirePro W7000, whereas the two D700 cards in the Mac Pro are more akin to AMD's more powerful FirePro W9000) along with twin ethernet, and the Windows machine came out at $9,058.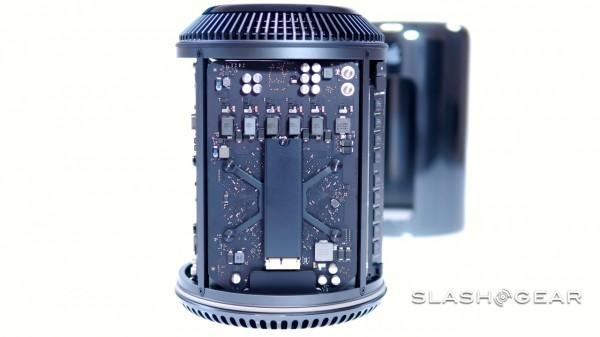 That's over $2,200 more than Apple is charging, for less graphics performance and none of the Thunderbolt 2 connectivity the Mac Pro offers. The HP does have a larger chassis than the Mac, which means a little more space inside for upgrades, but things there have also evolved significantly as the Pro has matured.
The upgrade ethos has changed hugely since Apple last redesigned the Mac Pro enclosure, and little epitomizes that in the same way as the ports. The old Mac Pro was slow to get onboard with faster external peripherals, but the new version leads the Mac range in connectivity: six Thunderbolt 2 – each capable of connecting to up to six daisy-chained devices – along with four USB 3.0 ports, an HDMI 1.4, and dual gigabit ethernet. The latter can either be doubled up for twice the bandwidth on the same network, or allow the Mac Pro to get online on two different wired networks at the same time.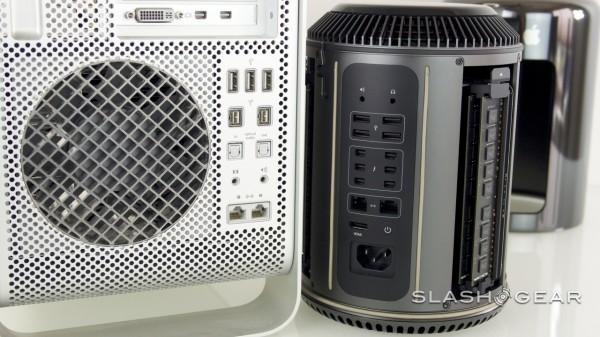 There are also separate headphone and line-out sockets, the latter capable of driving either analog stereo or 5.1-channel digital output. Inside, just like Apple's latest MacBook Pro notebooks, there's WiFi 802.11ac and Bluetooth 4.0. What you don't get is a memory card slot, or any front ports: if you want to plug in your iPhone you'll have to reach around to the back, just like if you want to offload photos from your camera or video camera, you'll have to plug in an external memory card reader.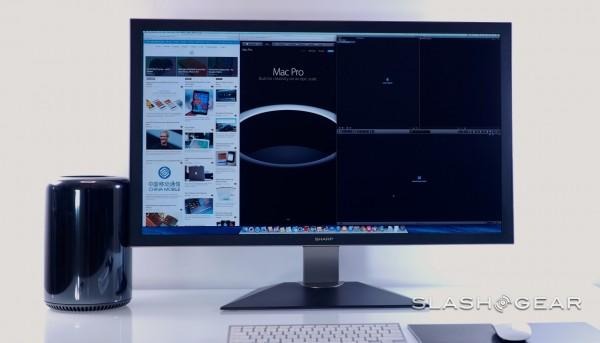 Apple also recommends an Ultra HD display – specifically Sharp's 32-inch PN-K321 – at $3,595 to take advantage of the Mac Pro's 4K output capabilities. In fact, a single Mac Pro can drive up to three 4K screens, for almost 25m pixels of total display space. Alternatively, each Thunderbolt 2 port can drive a single Apple Thunderbolt Display ($999 apiece) meaning up to six 27-inch 2560 x 1440 panels running off one Mac Pro (that's over 22m pixels total, if you're keeping count).
Performance
As you'd expect, in regular use the new Mac Pro simply flies. Apps, even weighty ones like Final Cut Pro X, load near-instantly. Files can be transferred around the flash storage with effectively no consideration to how large they are: it's just drag, drop, and they're there.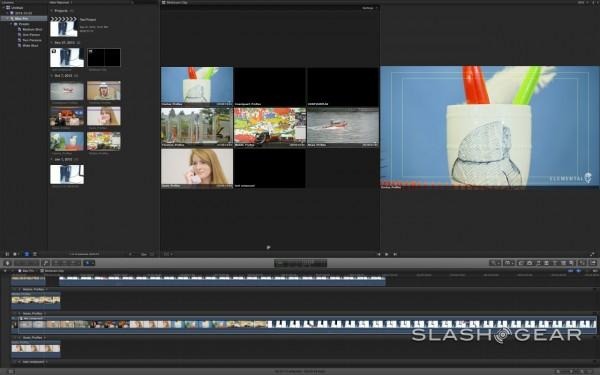 In fact, the Mac Pro features the fastest PCIe storage Apple has used to-date, comfortably out-performing the previous champion, the late-2013 refresh of the 15-inch MacBook Pro with Retina display. Apple rates the Mac Pro at up to 1.2 GB/s sequential reads and up to 1 GB/s sequential writes, and in our tests with Blackmagic's Disk Speed tool, we saw a hugely impressive 935.3 MB/s reads and 965.3 MB/s writes. That's around 300 MB/s more than the MacBook delivered in each category, and an even bigger step up compared to 2013's 27-inch iMac refresh.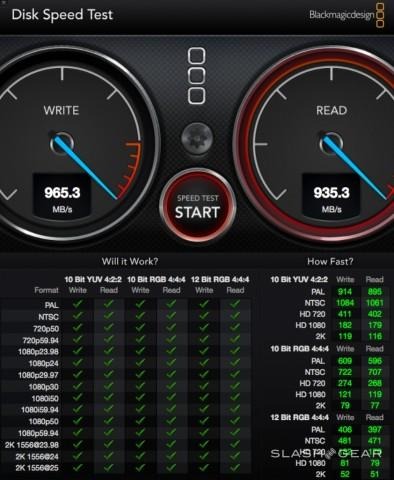 The 8-core Xeon E5 is another strong hitter, scoring an impressive 25,312 in Geekbench 3, the synthetic test of processor and memory performance. In comparison, the top-spec 2013 iMac with a 3.5GHz quadcore Core i7 came in at 15,129. In Xbench, the Mac Pro scored 330.76 in the processor category, while in Cinebench's CPU testing it scored a huge 1,160cb. SunSpider, the test of browser Javascript performance, completed in 108.0ms (where faster is better).
To see the biggest differences however, whether that be in benchmarks or applications, they need to be capable of addressing both of the FirePro GPUs. It's a similar situation with the switch from 32- to 64-bit, and just as when Apple made that change, it's the company's own software which is leading the way.
Poster-child for the 2013 Mac Pro, then, is Final Cut Pro X, updated this month to optimize for the dual GPUs on offer. The $299.99 video editing suite was already powerful, but it's with the dual-GPUs it has to play with here that it really flies.
We loaded it up with six 4K (3840 x 2160) source videos and a single 1080p video, then turned off background processing and began applying filters. With the Mac Pro doing its processing in real-time, we were able to add more than ten filters simultaneously with no slow-down whatsoever.
After that, we exported to a Final Cut master file, first with seven filters active and no pre-processing completed. The resulting file exported in 40.52 seconds. Doubling the number of filters to be processed to fourteen pushed the export time up just five seconds more, to 45.90 seconds.
Finally, we exported the fourteen filter video to 1080p Full HD, a process which took just over seven minutes. In contrast, a fully-loaded 2013 15-inch MacBook Pro with Retina display took more than ninety minutes to export the same video. During all that time, there was a little noticeable heat emerging from the top of the Mac Pro, but neither it nor fan noise – a discrete whir – were excessive.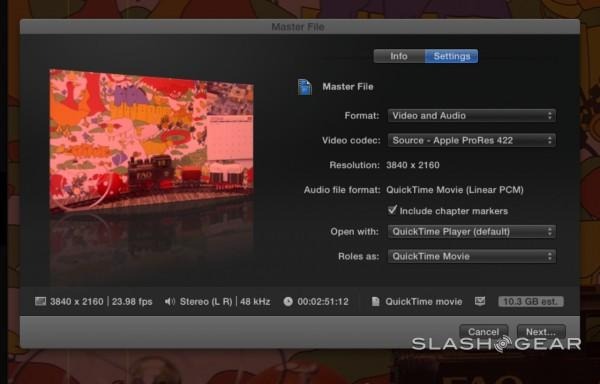 It's testament to Apple's combination of finessed software and AMD's capable FirePro graphics cards, and it makes a legitimate difference to the experience of video editing. Trying out a filter (or ten) or changing video speed no longer comes with a performance penalty: you're free to simply give it a look and then change back if it doesn't work out. It takes a little while before you realize what you're suddenly able to do, with that sort of flexibility, but once you're familiar with it – like, perhaps, the surfeit of horsepower behind the gas pedal of a Stingray – it's hard to imagine working without it.
On the flip side, without that optimization, GPU-centric applications won't deliver their best since they'll only take advantage of one of the FirePro cards. That will mean that, for the moment at least, those who do their video editing in something like Adobe Premiere simply won't see the benefits the Mac Pro brings. Even with a single FirePro and an eight-core processor it'll certainly be a decent showing nonetheless, but it'll take third-party developers coding to support the Mac Pro's hardware to really unlock the potential.
That's just a matter of time, however. With delivery estimates for the new Mac Pro already extending into February 2014, by the time multimedia mavens start receiving their hardware the developers will have a fair amount of time to bring their apps up to speed.
Wrap-Up
Let's get the easiest conclusion out of the way first: if you're a Final Cut Pro user, and you can afford it, the new Mac Pro is the best workstation on which to use it. Apple's combination of software and hardware – when paired with the right 4K display – offers speed and flexibility in a package we've never seen before.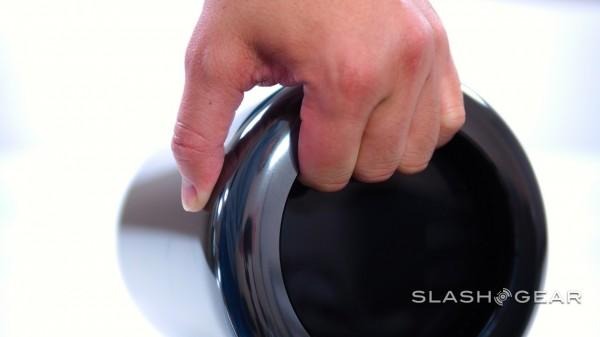 If you're a video, media, CAD, or other professional, but you're not using Apple's software, the Mac Pro's potency will depend on your software of choice. Just as we saw with the 64-bit transition, getting the most from the dual-GPU configuration requires app support: the big brands will undoubtedly be working on that, but you won't be getting full bang for your buck until your software takes advantage of everything the Mac Pro offers. We can't blame Apple for that – it's the price you pay for adopting cutting-edge hardware – but it's worth considering as you think about your upgrade roadmap.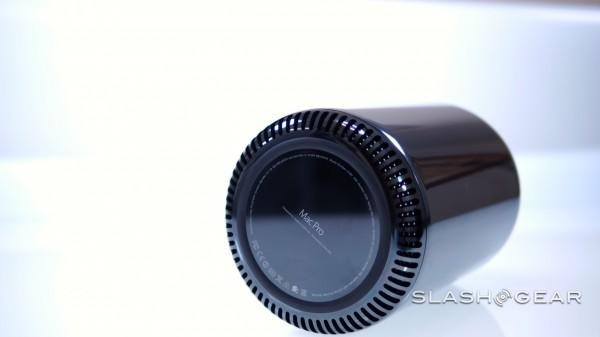 The 2013 Mac Pro has another consequence, however: further evidence of Apple's shift away from upgrades and more toward expansion. This isn't a workstation where you're encouraged to switch out components or fill up spare drive bays; instead, Thunderbolt 2 and USB 3.0 are the tools intended to keep the Mac Pro up to speed. The Thunderbolt accessory scene has been relatively slow to take off so far, but we're likely to see that accelerate as professionals begin to clamor louder for peripherals.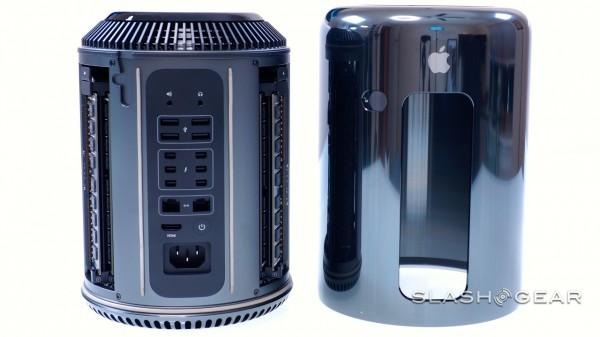 It's hard not to be wowed by the Mac Pro. Apple has created a workstation that breaks new ground in design, delivers power in excess of PCs several times its size, and doesn't leave your office sounding like a turbine hall in the process. That it carries a premium price comes as little surprise given its position in Apple's range; that it delivers so comprehensively is what leaves us recommending it to those with the need and the budget for superlative performance.