Mac OS X 10.7.3 hits with bug fixes, new languages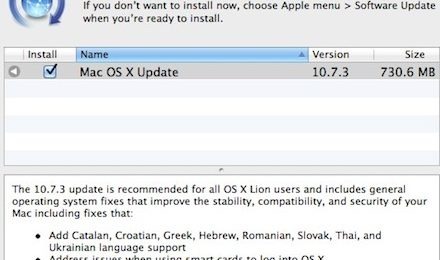 Apple today released its latest Mac OS X Lion update with version 10.7.3 that also includes Safari 5.1.3. The update brings several bug fixes for improved performance and compatibility. It also adds several new languages and RAW image file support for new cameras.
Specifically with bug fixes, the updates resolves a WiFi connection issue that has been occurring when Macs with Lion awake from sleep. Compatibility issues with Microsoft Windows file sharing and printing Microsoft Word documents have also been addressed.
The new languages now supported include Catalan, Croatian, Greek, Hebrew, Romanian, Slovak, Thai, and Ukrainian. RAW image file support now extends to several new cameras, including the latest Olympus PEN cameras, the Nikon J1 and V1, and the latest Sony Alpha and NEX cameras.
The update is over 700MB in size and is available for download now. For more details on what improvements the update brings, visit the release notes.
[via TUAW]