Mac OS X 10.7.3 bug fix available for download now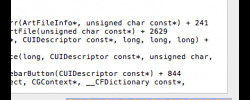 A select number of users updating to the newest version of Mac OS X on their Apple machines have encountered a bug of sorts, but some relief has some down the pipe in less than 24 hours after the original release. This fix does not come directly in response to the bug, but is an official Apple-made software download you can all use to bring your life back to normalcy. The problem is, the bug itself is one that closes all applications as you open them – so you're going to have to do some jimmy-rigging.
This error is also being called the CUI CUI CUI error because of the letters that pop up on your display when an application is opened. A fix has been found in an Apple forums discussion thread by a fellow by the name of nmphotog who notes that he or she has been able to download a COMBO update as located here: OS X Lion Update 10.7.3 (Client Combo). The thing he does not mention is how some of you may have to take odd measures to make this happen.
If you're absolutely unable to get any windows open, like the web browser window to get to the webpage you'll need to get the update download, you'll want to open your computer in FireWire Target mode. You WILL need a FireWire cord, whatever kind that may be for your computer, and connect it to another Mac that's got a FireWire port as well. You'll want to then power up your Mac (the one with the problem) while holding down the T key. You'll then want to download the software you need with the second computer and install it to the first over FireWire. Simple as pie!
[via MacWorld]