It would appear that the Mac mini from late 2018 is quite a bit more versatile, hardware-wise, than most other Apple products. Today the folks at iFixit revealed they'd been working on a set of RAM stick replacements for those delivered with the most recent Mac mini release. They suggested that they'd seen such opportunity when their community-made RAM replacement guide saw tens of thousands of hits in a very short amount of time.
The Apple-made and Apple-released RAM boost when buying a more power-packed Mac mini can cost between $200 and $1400 extra bucks, depending on if you add 16, 32, or 64GB RAM right out the gate. Generally when Apple has such different versions of a device available, the different configurations are only modifiable by the company. In this case, that's not entirely true.
Apple isn't particularly keen on users opening up their own Mac mini to do repair and/or parts replacement work. As such, you might want to get more familiar with how Apple will treat you for repairs in the future if you do, indeed, attempt to upgrade your base configuration of RAM sticks. If you're OK with how Apple feels about you opening up your computer, by all means, go for it!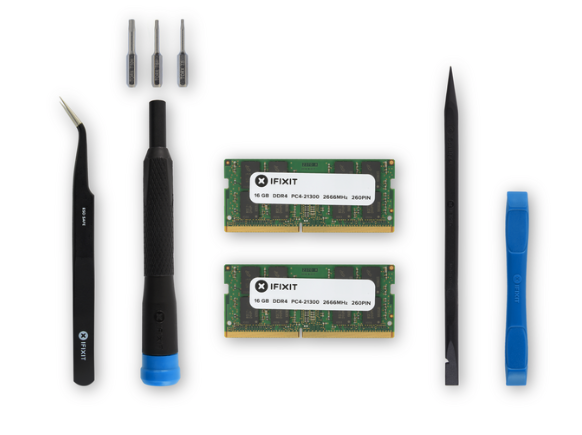 There's a little kit over at iFixit by the name of "the Mac mini Late 2018 Memory Maxxer RAM Upgrade Kit" that'll give you the tools you need to open up and modify your late 2018 Mac mini machine. In the kit are the following items.
iFixit's late 2018 Mac mini Memory Maxxer RAM upgrade kit contents:
• Angled Tweezers
• Precision Bit Driver
• 4 mm Precision Bits
• Spudger
• iFixit Opening Tool
• PC4-21300 16GB or 32GB RAM
The difference in price VS Apple's costs are relatively small in one case, and quite significant in the other. If you're going for 16GB over base configuration, Apple's cost is $200, while iFixit's kit is $165. That means you're paying $35 less than you'd have paid Apple.
If you're deciding between buying a Mac mini from late 2018 with that extra 16GB right now, you might as well just let Apple do the work. If you already have a Mac mini and want to upgrade, iFixit's kit here is a decent way to do it.
Apple's cost for 32GB over base configuration for the late 2018 Mac mini is approximately $600. If you go with iFixit's 32GB kit, you're paying $325, which is $275 less than you'd have paid Apple. In this case, doing it the iFixit way might well be your best course.
You can also tack-on PC4-21300 16GB RAM chips to your order for $160 apiece – if for some reason you need a spare. All this stuff is up for sale over at the iFixit shop right this minute. Let us know if you see an alternate solution and/or a better price elsewhere – we want to report it!