Mac Fusion entry-level developer's platform tipped for WWDC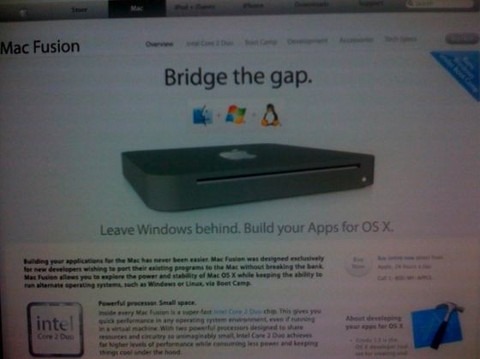 With mere hours to go until the WWDC 2008 keynote kicks off, it almost seems pointless to speculate on what Steve Jobs might announce as his "one more thing".  But it's Monday morning and the tubes are clogged with 3G iPhone rumors, so it's actually a relief to see something else with an Apple logo on it.  This image purports to be pre-announcement leakage of the Mac Fusion, an entry-level machine for new OS X developers. Full text transcript after the cut
Leave Windows behind.  Build your Apps for OS X.

Building your applications for the Mac has never been easier. Mac Fusion was designed exclusively for new developers wishing to port their existing programs to the Mac without breaking the bank. Mac Fusion allos you to explore the power and stability of Mac OS X while keeping the ability to run alternate operating systems, such as Windows or Linux, via Boot Camp.

Powerful processor. Small space.

Inside every Mac Fusion is a super-fast Intel Core 2 Duo chip. This give you quick performance in any operating system environment, even if running in a virtual machine. With two powerful processors designed to share resources and circuitry so unimaginably small, Intel Core 2 Duo achieves far higher levels of performance while consuming less power and keeping things cool under the hood.
Fake or honest-to-god leak?  Tricky to tell.  Directly referring to Windows in the byline makes me suspicious; yes, Apple poke fun at their Microsoft counterparts in adverts and presentations, but they seem to hold back from giving them too much screen-space online. 
More pertinent is whether there's a market for the device.  Currently the Mac Mini is the developer's entry point, and while there have been rumors for a long time that it's about to be discontinued, it seems to have stuck around.  If Apple actually did kill off the Mini, would they replace it with something so specifically targeted at developers? 
The nice thing about speculation like this is that we'll only have to wait hours to find out the truth.  Join us for the WWDC 2008 keynote at http://live.iphonebuzz.com/