M-Edge unveils new and updated line of accessories for Amazon Kindle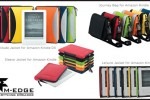 I haven't bit the bullet and bought myself an Amazon Kindle yet, but I have a serious jones for the gadget. Amazon is certainly selling a lot of the Kindle DX devices and more than one user has found that to keep the reader pristine requires some sort of protection for the device.M-Edge has announced that it is now offering a full line of accessories for the Kindle and the Kindle DX. The line includes a second generation Sleeve Jacket for the Kindle selling at $39.99 and a Sleeve Jacket for the Kindle DX selling for $49.99. The exterior of the sleeve is made from neoprene and it is lined with grey polar fleece.
Other offerings include the Latitude Jacket for the Kindle and the DX selling for $39.99 and $49.99 depending on which reader you use. The Latitude is light at 5.2 ounces, but offers lots of space for accessories and protection for the reader. M-Edge also offers the Leisure Jacket for the Kindle at $39.99 and a Journey Bag selling for $44.99. The entire line of products is available now.