M-Edge gives your Kindle crabs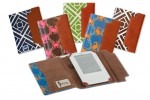 The Amazon Kindle is one of the coolest gadgets out there right now. If you have one that you carry with you on the road frequently, you will want a case to keep the device safe. I have talked about the M-Edge line of Kindle cases before, the company offers a plethora of styles for the Kindle.
M-Edge is now offering a line of cases that will give your Kindle wood and crabs. Some of the cases have a bamboo-inspired design on them and the others have crabs scurrying about on the design. The bamboo theme case is called Little Harbor and is offered in blue, green, and brown.
The design with crabs on it is called Boat Canyon and comes in teal or brown. The two case designs are part of the Halsea for M-Edge collection are a bit feminine. In addition to being girly, the cases are expensive to with an MSRP of $69.99.