M++ Card has it all, if you want it to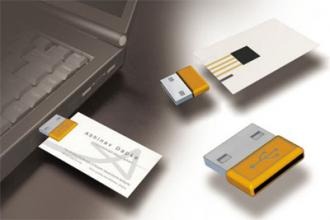 I get annoyed when people only give me a business card and no information. I feel it shouldn't be the customer/clients responsibility to look up the facts themselves, the business should sell them upfront or provide them with the information needed to make an educated choice.
Because of that, I love the idea for the M++ card. You could store all your pertinent information right on your business card. Your potential customer/client could then look through your information at their convenience. The only thing I would even consider a problem with this idea would be that it might be hard to make sure everyone had the adapter it needs to plug in to their USB.
It's only a concept at the moment but I sincerely hope it works out. This could ease a lot of trouble and free up a lot of wasted "pamphlet" space.
M++ cards carry a little something extra [via Coolest Gadgets]