M-Audio offers new Studiophile CX-5, CX-8 monitor speakers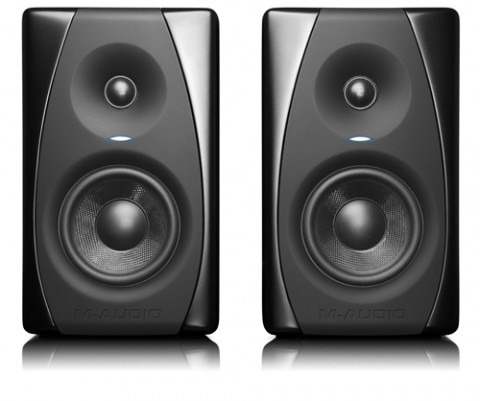 If the high-end M-Audio speakers are out of your price range, Avid has just announced they will be releasing new monitor speakers in the Studiophile series that satisfy those with middle-of-the-road budgets. The CX-5 and CX-8 speakers fall between the BX and Studiophile DSM Monitor lines and features silk-dome tweeters with kevlar lower-frequency subwoofers.
These speakers feature "waveguides" which allow for a bigger area of optimal sound. These new monitors look nice and are very similar to one another. The only real difference is that the CX-8 has an 8-inch driver and the CX-5 has a 5-inch driver–hence their names.
The CX-5 has a frequency response of 50Hz to 38KHz, while the CX-8 is at 38Hz to 38KHz. Both sport rear panel trim controls, RCA inputs and Neutrick combo connectors. While we don't know specific release dates yet, the CX-5 will cost $399 while the CX-8 will cost $499.
[via MixBlog]