Luxury Hypoxi Exercise Bike - The Hip Shaper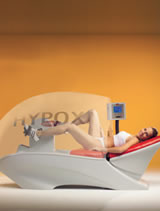 I've seen and use many exercise machines, but the Luxury Hypoxi Exercise Bike is the only exercise machine that comes with a comfy bed. According to the product page, it allows the user to relax their upper body and target the work out to lower body.
"At the heart of the L250 is Hypoxi's unique vacuum chamber. Through a combination of alternating vacuum therapy, an integrated lounger for the client to relax on and a bicycle ergo meter so that gentle exercise can be undertaken, the L250 promotes targeted inch loss and increased lymphatic drainage from the lower body.
The L250 gives skin a rejuvenated appearance and is ideal for those who find it near impossible to reduce body fat on their hips, thighs and buttocks."
So those who want to shave couple inch on your hips might want to give this exercise machine a try.
Product page, Luxury Hypoxi Exercise Bike With Bed [via bornrich]