Lucidchart leak reveals Google Drive integration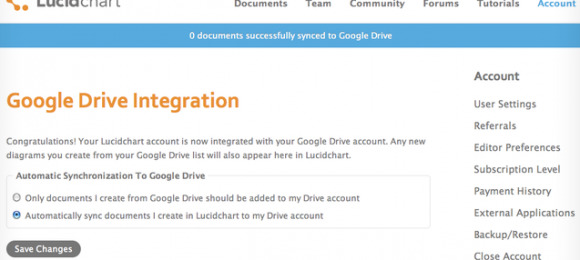 Google Drive leaks have been flying at us thick and fast recently, and you can add another one to the list that indicates the service may be launching imminently. The Verge was tipped to Google Drive references on Lucidchart, a diagram and chart creation service. A user logged into his account and spotted Google Drive integration in the control panel.
The references have since been removed, but promised automatic upload of charts to Google Drive. Lucidchart already has Google Apps support, so it's possible that the company has access to Google Drive and is testing the service behind the scenes. They could also be an announced launch partner, and it's not a stretch to think that Google will have a myriad of other partners at launch that provide tight integration.
Naturally, the references on Lucidchart don't indicate when we'll be seeing Google Drive. Previous rumors indicated that Google Drive would launch in early April, although we're past that point now with no sign of the service. Leaks have shown that Google Drive will offer 5GB of storage space with the possibility of expansion, as well a mobile Android app. The interface is said to be similar to Google Docs.
Google Drive is intended to be a competitor to Dropbox and other services, allowing users to upload and share files across a wide range of devices, as well as update them on the go.