LTE network trial in UK heralds 4G flood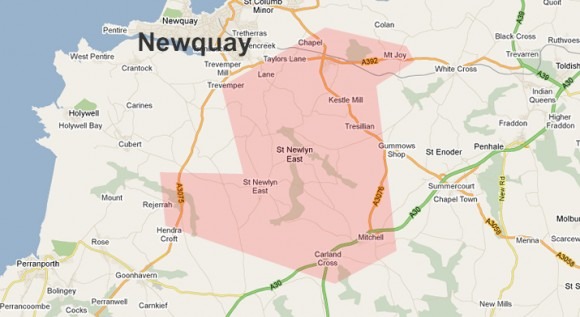 Volunteers to take part in the UK's first live trial of a 4G broadband service are being invited to sample some of the LTE goodness that their US counterparts are already enjoying, with carrier combo Everything Everywhere and telco BT rolling out the scheme in Newquay, St Newlyn East down in Cornwall. Currently predominantly unserved by traditional broadband, the system will use a temporarily-assigned chunk of the 800MHz spectrum and either fixed or wireless 4G modems.
Up to 200 people who live inside the test coverage area – which you can see on the map above – will be involved when the trial kicks off in September this year. Up to 100 mobile and 100 fixed line customers will be outfitted with kit from Nokia, Siemens and Huawei, either using USB modems or home modem/routers, reports the BBC.
Broader use of 4G isn't expected in the UK for some time yet, with carriers yet to bid on the spectrum; that will take place early in 2012, with networks expected in 2014. The spectrum is currently used for analog TV broadcasts, which are gradually being phased out.
Press Release:
4G Superfast Broadband Trial

Everything Everywhere and BT are collaborating to deliver the first live trial of next generation 4G superfast broadband to customers. The live proof of concept trial is the first of its kind in the UK and will see the two companies sharing their fixed telecommunications and mobile technology to provide high speed wireless broadband to customers in rural Cornwall.

The collaboration means residents living south of Newquay in St Newlyn East and the surrounding area will be the first to experience the next generation of internet access speed.

The trial will take place in a combined coverage area of 25 square kilometres, with approximately 700 premises which have no or limited access to broadband services today, enabling you to surf the internet faster and more effectively than ever before.

What we need now are 200 volunteers to take part. The trial will start this September and run to early next year, involving up to 100 mobile and 100 fixed line customers.

Please see our coverage map to check whether you are in our 4G superfast broadband coverage area.

If you want to take part you just need to fill out your details below and we will be in touch.

There is no cost and no risk on your part. Everything Everywhere and BT will be picking up the bill for all of this and our teams of experienced engineers will fit all of the equipment you need and even provide you with an up-to-date 4G-ready dongle to use.

You just have to promise to put it through its paces and let us know how you get on.

We hope the people of St Newlyn East and surrounding area are as excited as we are about making a little bit of history with this trial.