LTE BlackBerry PlayBook due on July 31st for $550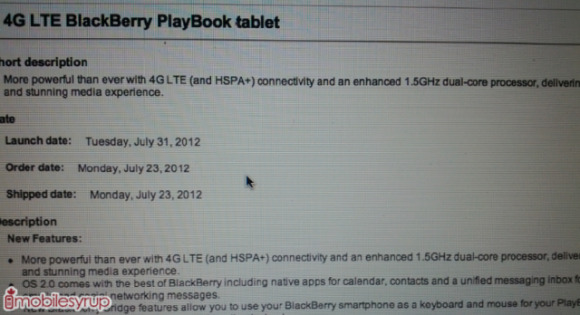 If you've been holding out for a BlackBerry PlayBook with LTE connectivity, you apparently won't have to wait much longer. MobileSyrup has scored some info that shows the long-awaited tablet will finally be landing next week, or on July 31st to be exact. That date comes by the way of Bell Canada, just one of the carriers planning to offer the LTE variant of the tablet when it does go on sale.
The 7-inch slate will come with 32GB of storage, so it looks like RIM was serious when it said it would no longer 16GB as an option. Better yet, the processor will also see a bump to a 1.5Ghz dual-core model, although it's not clear if it's the same TI OMAP processor or perhaps one of Qualcomm's offerings with an integrated LTE modem. The other specs remain the same, including 1GB of RAM, a 5-megapixel rear camera and 3-megapixel front-facing camera, plus PlayBook OS 2.0.
If you want a LTE connected PlayBook, you'll be paying $549.99 unsubsidized. If that sounds fair, then you only have to wait a week or so, and you can take comfort in the fact that RIM will upgrade the tablet to BlackBerry 10 when the operating system launches early next year, assuming the company can overcome its financial and market troubles.
[via Engadget]