Louis Vuitton Breaks Into Smartwatches With Tambour Horizon Line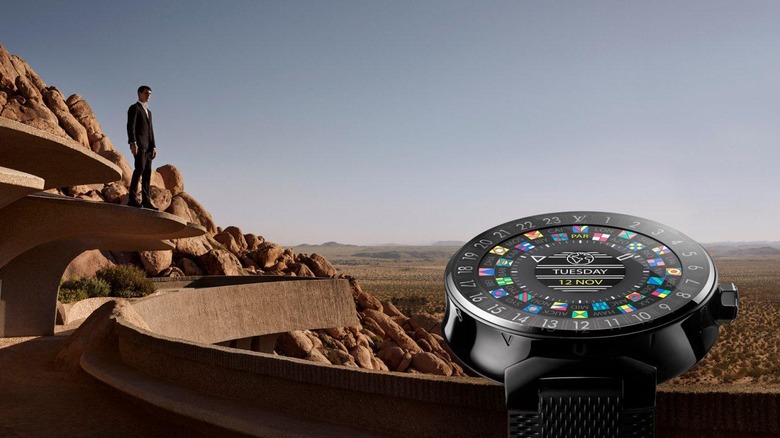 Even though it may seem like smartwatches could be on the way out, Louis Vuitton has decided to try its hand at the segment. Today the French designer house announced a new line of Android Wear-powered smartwatches. The Tambour Horizon line, as its being called, certainly looks impressive, but as with everything else to come out of Louis Vuitton, expect to pay quite a bit of money to own one.
In fact, you can count on paying multiple thousands of dollars to add one of these to your collection. Of course, the upside to that beefy price tag is that these watches look much better than a lot of other Android-based watches, offering that "luxury watch" look with all the functionality of a smartwatch.
As with all other smartwatches, the ability to install and use apps is the main attraction here (or at least it's second to design). Louis Vuitton has developed its own smartwatch app called LV Pass, which allows you to download new watch faces and "exclusive content." It's within this app that you'll pair your smartwatch to your phone and view things like tutorial videos, making it a good resource for those who might new to the realm of smartwatches.

Some of the watch faces Louis Vuitton has developed have interesting functionality as well. The My Flight watch face, for instance, will keep your travel itinerary a swipe away, letting you know when your next flight takes off and even when the plane is boarding. My 24 Hours, on the other hand, is a watch face that aims to show you local time and times in regions around the world at a glance.
Beyond Louis Vuitton's custom functionality, the Tambour Hoirzon line will operate just like any other Android smartwatch. There are six different watches in the Tambour Horizon line in all, but each one of them will cost some significant cash – prices range from £2140 to £2600 (roughly around $2750 to $3350). To pick one up yourself or see a bunch of tutorial videos that cover everything the Tambour Horizon can do, check out the source link below.
SOURCE: Louis Vuitton