Lotus EVIJA production commences in Hethel this summer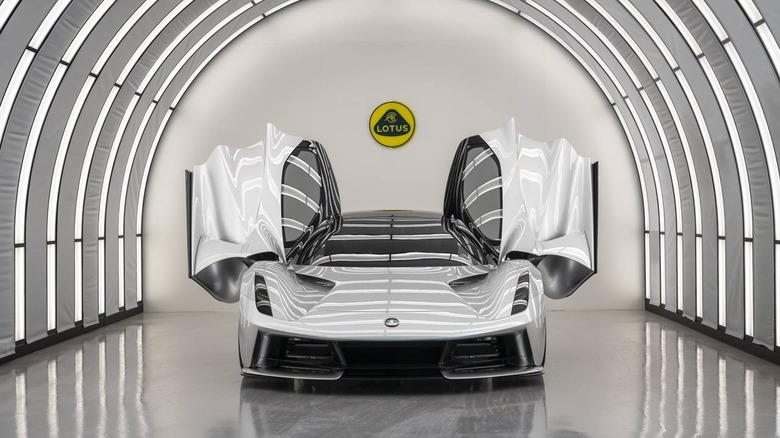 Lotus has announced that the manufacturing facility where it will build the all-new Lotus EVIJA electric hypercar is being readied for final prototype production. Series production and the first customer deliveries of the all-electric two-seat hypercar will begin this summer. The production hall where the vehicle will be produced is located at the Lotus Brand's historic home in Hethel, Norfolk UK.
The Lotus EVIJA is being built near the automakers 2.2-mile test circuit that has seen some racing legends host testing sessions such as Ayrton Senna, Emerson Fittipaldi, and others. At this manufacturing facility Lotus plans to hand-build up to 130 examples of the electric hypercar. The entire first year of production is already spoken for.
The manufacturing facility where the EVIJA will be produced is currently the newest car production facility in the world. Lotus Cars CEO Philip Popham says that it has been deeply satisfying to witness the facility move from the drawing board to reality. Work on the new factory began in the summer of 2019 and it was unveiled to 1400 Lotus employees during a series of staff briefings.
The facility has an overhead gantry crane, multiple vehicle lifts, and a wheel alignment ramp. The facility is lit by 30,000 high-density, low-energy LED lights. The facility also has a light tunnel where a rigorous final inspection will be performed on the vehicles before each unit is driven out the door, and onto the test track for dynamic validation.
As for the Lotus EVIJA, Lotus says that the name means "the first in existence." The vehicle will produce 2000 PS, or about 1972 horsepower. It will reach 62 mph from a standstill in under three seconds, 186 mph and under nine seconds, and has a top speed of over 200 mph. The vehicle will be able to charge its batteries fully in under 10 minutes with an EV driving range of 250 miles.