Lotus Elise Sprint goes back to lightweight basics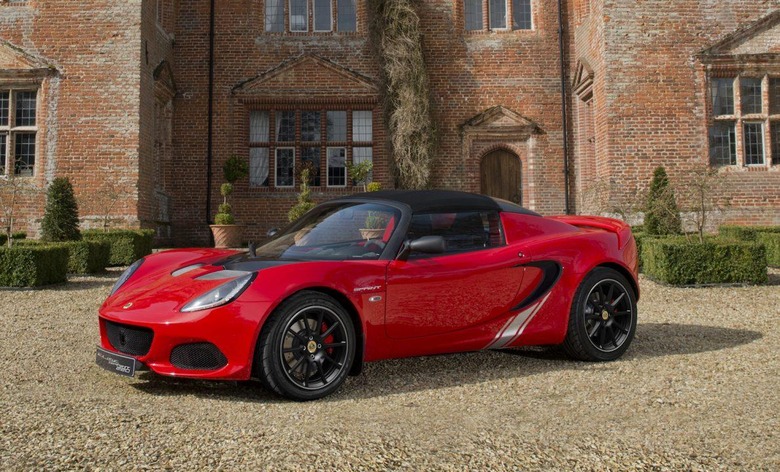 Lotus was always a proponent of the "simplify, then add lightness" school of car design, preferring to focus on weight rather than just shoehorn in more power. Still, though the British automaker was more removed than most from the trends of the car industry, the Elise gradually became better equipped and, as a result, heavier. Now, there's a new Elise Sprint edition, which takes Lotus right back to founding principles.
It's the biggest weight cut that the company has made since the first-generation car, and it also debuts an updated design for the Elise in general. Its dry weight is just 798 kg, or under 1730 pounds; Lotus' engineers shed 41 kg – more than 90 pounds – through some seriously stringent dieting. The resulting car slots in-between the Elise Sport and the Elise Cup 250.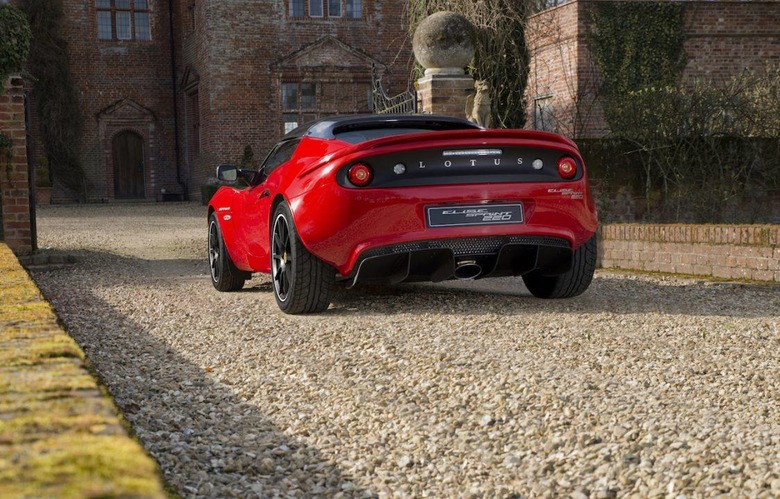 So, using a carbon access panel, roll hoop cover, and engine cover, and switching the rear window from glass to polycarbonate trims more than 13 pounds from the Sprint. A lithium-ion battery cuts almost 20 pounds alone, while the carbon race seats save over 13 pounds. New, lightweight forged alloy wheels are 11 pounds lighter than those fitted to the old Elise Sport and Sport 220 cars.
It doesn't stop there. New optional two-piece brake discs save almost 9 pounds, while optional carbon sill covers can reclaim almost 2 pounds. Styling all around has been tightened up and tweaked, with the Sprint getting a matte black transom panel, black wheels with contrasting metal-spun rims, side-stripes, and special Sprint badging. Inside, there'll be Alcantara trim on the doors and parts of the dashboard; bodywork-matching color inserts in the seats, transmission console, and HVAC surround; and more Sprint badging stitched in.
While cutting weight may have been the Elise Sprint's raison d'être, if the result looks more visually pleasing then it's all the better. An excellent example of that is the open-gate gear select mechanism. First debuting on the Exige Sport 350, Lotus' even more aggressive coupe, the cutaway section loses unnecessary weight – 2.2 pounds alone, the automaker says – as well as exposing the mechanically handsome gears that apparently shift in a "more positive and direct" way.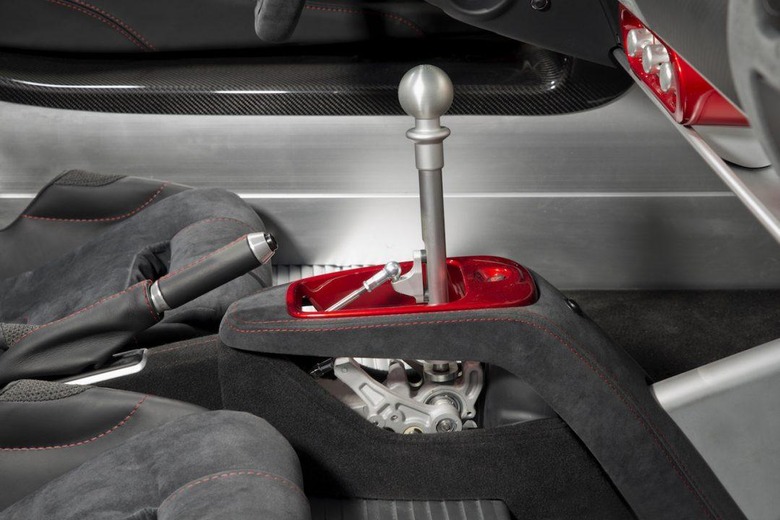 Lotus will offer two engines, with the regular Elise Sprint getting a 1.6-liter naturally aspirated four-cylinder with 134 HP and 118 lb-ft. of torque, and the Elise Sprint 220 stepping up to a supercharged 1.8-liter with 217 HP and 184 lb-ft. of torque. Courtesy of the diet, the Sprint will do 0-60 mph in 5.9 seconds and has a power to weight ratio of 168 HP/ tonne. The Sprint 220 steps that up to 0-60 mph in 4.1 seconds, and a 257 HP / tonne ratio.
If you're still on the fence between the two, the soundtrack might sway you. A new exhaust system promises to improve the sound from the supercharged 1.8-liter engine. In fact, Lotus claims it's "the best-sounding 4-cylinder car on the market."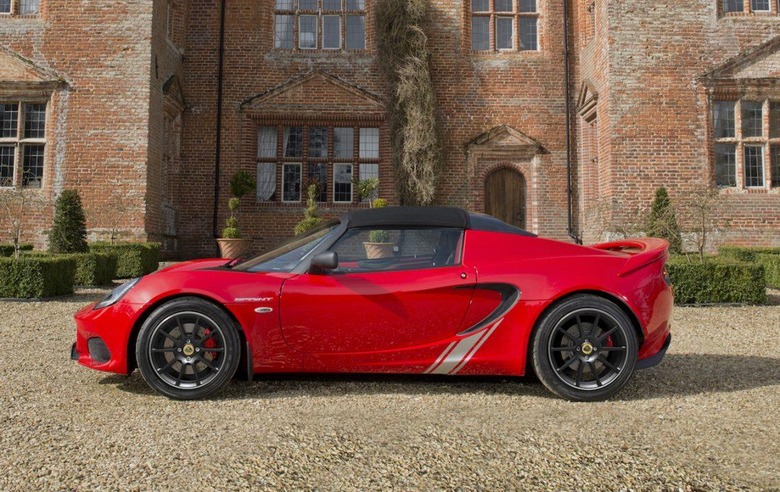 Lotus says that the new aesthetic will be carried over to all Elise editions, along with the new interior options. Meanwhile, if the idea of lightweighting appeals but you're not quite ready to do without every creature-comfort, all of the Sprint's components offered in the name of cutting heft can be specified on Lotus' standard Elise Sport and Elise Sport 220. Even without those options, just over 22 pounds have been trimmed from the regular cars by virtue of bodywork modifications, while new rubber elements on the underside and an extra diffuser vane play a part in cutting drag and increasing stability.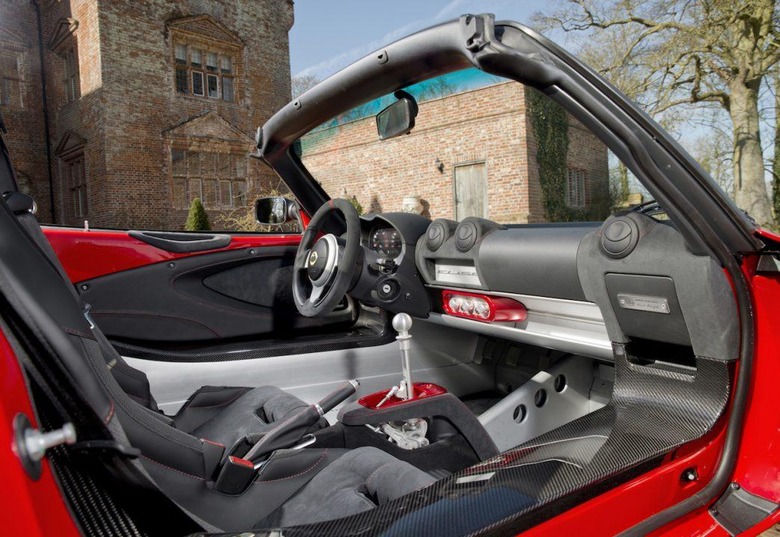 The Elise Sport also gets a new center console, and optional carbon sill covers that lower weight but also make for a slightly lower sill for a more graceful entry and exit. A revamp of the instrumentation has given it new graphics, while a new infotainment system includes iOS device and Bluetooth connectivity. There are still Drive and Sport ESP modes, in addition to being able to turn the system off altogether.
Lotus says the new Elise Sprint is available to order now, with deliveries expected – in the UK at least – from April. The base Elise Sprint starts at £37,300 ($45,480) while the Elise Sprint 220 start from £44,300 ($54,000). A new Elise Cup 250, with a 50 pound weight loss as standard and the option to step that up to over 88 pounds, is also due to arrive in May, priced at £47,400 ($57,800).