Lotus Elise Cup 260 is limited to 30 examples globally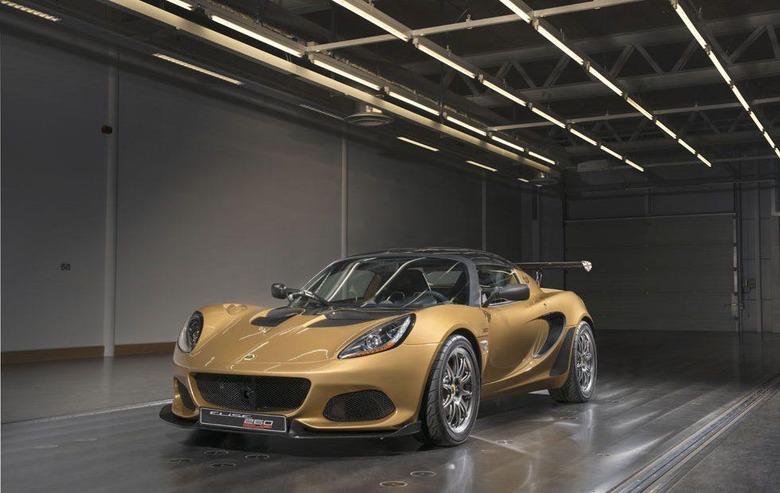 Lotus has unveiled a new version of the slick little Elsie sports car dubbed the Lotus Elise Cup 260. Lotus says that the Elise Cup 260 is the "standard for outright track pace and low lap times." The car features a laurel wreath decal on the left buttress and has the Union Jack on both rear wing end-plates. The gold hue you see the car swathed in here is an option and is called Championship Gold.
Lotus says the Cup 260 is the lightest Elise ever made and generates the most downforce of any Elise. The car's aero generates up to 180kg of downforce at 151 mph. Keys to the high levels of aerodynamics are a louvered front wheel arch vent, carbon fiber front splitter, and a wide and high rear wing.
Almost all of the lightweight Elise Cup options are standard on the Cup 260. Those touches include carbon fiber sill covers, roll hoop cover, front access panel, and engine cover. The car also uses two-piece brake rotors. Lotus also uses two-way adjustable Nitron dampers for suspension, the first time these have been used on an Elise.
The backlight glass is polycarbonate and the interior is hand trimmed. The car is street-legal with motorsports tires that can be driven on the street. The Elise Cup 260 lapped the Lotus Hethel track in 1 minute and 32 seconds, 2.5 seconds faster than the Elise Cup 250.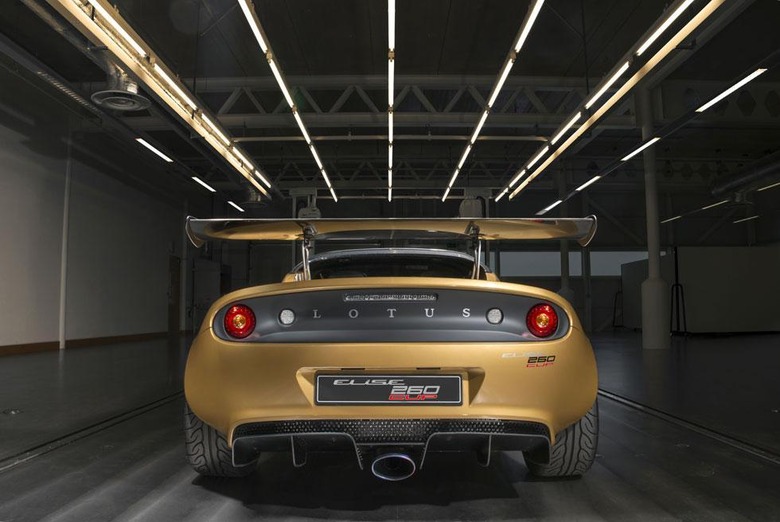 Power is from a chargecooled supercharged 1.8L engine that makes 250 hp and 255 nm of torque with a 6-speed manual transmission. The car can hit 60mph in 3.8 seconds and has AP Racing twin-piston front brakes and Brembo rears to bring it to a stop. Top speed is 151 mph. The car starts at £59,500 in the UK and isn't offered in the US. Lots of options are offered to drive that price up.
SOURCE: Lotus