The third of eight videos appearing this week during the launch of Weird Al's "Mandatory Fun" album release has arrived, and it's fresh! Weird Al has taken to the Lorde song "Royals" with a food-themed take, just as fancy as his earlier word crimes on humanity from the rest of the album.
What you're seeing here is another collaboration with a comedy-based organization online, this time Yankovic working with CollegeHumor to create a masterpiece. In this video you'll find actors Patton Oswalt, Tom Lennon, and Robert Ben Garant, not to mention the FOIL backup singers. Really not mentioning their names because we don't know them.
Patton Oswalt has appeared in his own stand-up comedy specials, regularly on Late Night with Conan, and took part in the smash hit "A Very Harold & Kumar 3D Christmas." Tom Lennon is Lieutenant Jim Dangle on Reno 911! and has appeared in a number of odd shows like MTV's The State. Robert Ben Garant is also known for Reno 911!, playing the part of Deputy Travis Junior, the mime, and the streaker.
Keep an eye out for the world domination and the keeping fresh of the food. Be aware: there's always someone watching you.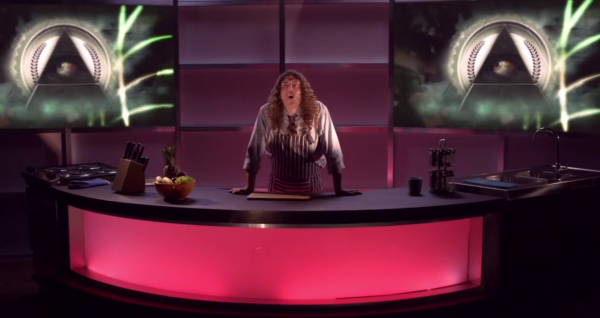 Have a peek at the rest of the [Weird Al action] this week and follow the #8videos8days collection with SlashGear. We'll be rolling on this one through to the end.