LOOQS MeFrame WiFi photo frame packs Internet Radio, more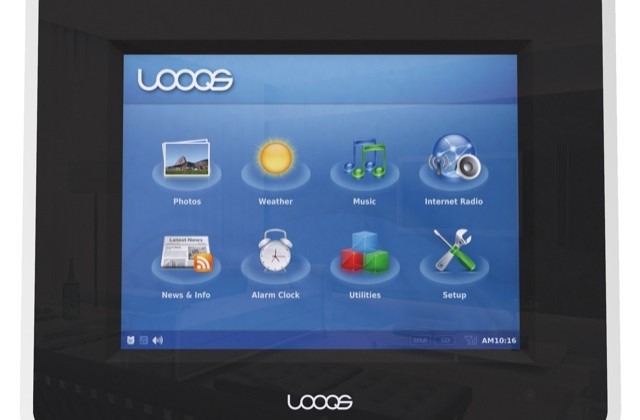 While the LOOQS MeeFrame looks, at first glance, like just another digital photo frame – albeit one that sensibly includes WiFI b/g – what makes it moderately interesting is how it fits into the rest of LOOQS' ecosystem.  The company's line-up includes a media storage device – the MeeBox NAS – and a version that integrates a wireless access point – the MeeBox Router – each of which can stream content to the touchscreen MeeFrame; alternatively it can show content from LOOQS' online MeeChannel portal.
The MeeFrame can show local photo slideshows or streamed content from Flickr, Picasa and MeeChannel, as well as receive and display photos sent by email.  It also has an MP3 player and internet radio, together with RSS feed display, all controlled via the 8-inch 800 x600 touchscreen.  There are also stereo 2W speakers, a 3.5mm headphone output, 1GB of internal storage, an SD card slot, USB 2.0 Host port and a miniUSB port for hooking the MeeFrame to a computer.  LOOQS also throw in a remote control.
LOOQS expect to show off the MeeFrame at CES in January 2010, and they've also got a SlingCatcher-style streaming media receiver in the works called the MeeCeiver.  No word on pricing.
Press Release:
Discover the 'digital photo frame 2.0' with MeeFrame LOOQS

The Netherlands – November 2009 – LOOQS announces its new digital photo frame MeeFrame, that is available now worldwide. MeeFrame is not like a 'regular digital photo frame'. It is a high-quality photo frame for your digital photos but with many interactive functions integrated, like full touch screen control, keep up-to-date with the latest news and listen to internet radio stations.

"Now that all of our photos are digitalized, they are stored on our computers and we don't do anything with them. With MeeFrame we bring back the photo experience of the past", says Pieter Havermans, product manager of LOOQS. "Plus we added some fantastic interactive tools to make it more fun."

MeeFrame is a digital photo frame with an 8 inch touch screen to view photos from a local source like an USB-drive, SD/MMC-card or the internal memory of 1 GB. It can also display the photos that are stored on MeeBox – which will be introduced later this year – or photos that are published on your account at MeeChannel.com, Flickr or Picasa. These photos are streamed live from the internet over a WiFi connection (IEEE 802.11 b/g).

Next to that MeeFrame has a digital music player integrated, Shoutcast internet radio stations and a reader for real time news and information. It can also be used as an alarm clock to wake you up each morning with your favorite song.

From the start MeeFrame will be available with the support of eight languages ( English, German, French, Italian, Portuguese, Dutch, Spanish and Greek). More languages and new to be added features will be included later on via firmware updates.

MeeFrame has been developed to work in seamless connection with MeeChannel.com. MeeChannel.com is a free online photo sharing service, which is fully compatible with each LOOQS MeeFrame. At MeeChannel.com you can store, edit and organize your favorite photos and share them with your friends and relatives all over the world. By connecting your MeeFrame with MeeChannel.com, you can easily access your online photos directly in your living room, and even send photos directly to someone else's MeeFrame.

About LOOQS

LOOQS is a brand new company (established early 2009), engaged in the design, distribution and marketing of electronic lifestyle products worldwide, with their headquarter based in The Netherlands. First introduction to the European public was at the well-known IFA 2009 in Berlin.

With a marketing and sales branch office in Arizona USA, and the participation at the CES 2010 electronics show in Las Vegas USA, the LOOQS MeeSeries products will be introduced in the USA market as well.

LOOQS has the mission to develop innovative electronics products with good "looqs". The MeeSeries now include MeeFrame, MeeBox NAS, MeeBox Router and MeeCeiver.